Blinken lied about exchange with Lavrov – Moscow
The top diplomats did not talk about a former US Marine jailed in Russia, the Foreign Ministry in Moscow has said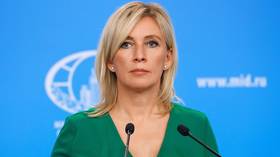 US Secretary of State Antony Blinken lied when he claimed that he discussed a jailed American citizen during a brief exchange with his Russian counterpart, Sergey Lavrov, the Foreign Ministry in Moscow has insisted.

Speaking at a press conference on Thursday, Blinken revealed that he and Lavrov "spoke briefly" on the sidelines of a meeting of G20 foreign ministers in India. Among other things, the American official claimed he had "raised the wrongful detention of Paul Whelan," a former US Marine currently serving a 16-year prison term in Russia for espionage.
"The United States has put forward a serious proposal. Moscow should accept it," Blinken added.
Russian Foreign Ministry spokeswoman Maria Zakharova denied the claims on Friday, saying she had asked Lavrov about the exchange with Blinken. The top Russian diplomat told her that his American counterpart had not brought up Whelan's case, with Zakharova describing Blinken's statement as "lies" and an example of "astounding" behavior by the US government.
Whelan is a Canadian-born former US Marine, who in 2020 was sentenced to a 16-year prison term in Russia for spying. He claimed he was framed while on a trip to the country.
The administration of President Joe Biden has called on Russia to release Whelan, branding his sentence unfair. The proposal to which Blinken referred matches those previously made by Washington to Moscow, State Department spokesperson Ned Price claimed on Thursday.
US officials reportedly tried to include Whelan in a prisoner exchange last year involving American WNBA player Brittney Griner and Russian businessman Viktor Bout, although the two sides ultimately freed just one convict each. Griner was serving a term for a drug crime in Russia, while Bout was imprisoned in the US on gun trafficking charges.

You can share this story on social media: