Lavrov issues pipeline warning to West
Moscow will not trust Western nations as energy customers, the foreign minister has said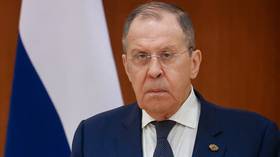 Russia no longer perceives the US and its allies as reliable trade partners and will not allow itself to be dependent on them, Foreign Minister Sergey Lavrov told a conference in India on Friday.
"We will not rely on any partners in the West anymore. We will not allow them to blow up the pipelines again," he said in response to a question about Russian energy policy.
Lavrov was referring to the sabotage of the Nord Stream pipelines, which connect Russia to Germany via the Baltic Sea. They were heavily damaged by explosions in late September, an act that Moscow maintains significantly benefited the US.
Washington has long criticized its European allies for their dependence on cheap Russian energy. American producers of liquefied natural gas grabbed a large portion of the European energy market after the EU decided to phase out Russian supplies in the wake of the Ukraine conflict.
European investigators reportedly failed to find any evidence that would pin the incident on Russia, even though Russian culpability was the predominant narrative in the Western media after the explosions. US investigative journalist Seymour Hersh, citing an anonymous source, reported last month that the sabotage was a clandestine US-Norwegian operation. Both nations dismissed the allegation.
Lavrov assessed that "Germany was humiliated" by the situation, including by the reaction to Hersh's report in Europe. He argued that the goal of the crisis was to "reduce Europe" to being a subordinate of the US, to "undercut Europe's competitive edge" and to "ruin the economic link" between the EU and Russia. Moscow has other markets to which it can offer its products, he added.
"We will be oriented to reliable partners, credible partners – India, China are certainly among them," Lavrov suggested.
The top Russian diplomat was speaking at the Raisina Dialogue, a leading Indian conference on geopolitics and geoeconomics. He reiterated Moscow's assertions that the Ukraine conflict was triggered by Western policies and explained that a peaceful resolution to the hostilities depended on Kiev's overturning its own ban on negotiating with Russia.
You can share this story on social media: