Pro-Kiev stunt in Baltics goes awry (VIDEO)
The displays of destroyed Russian tanks somewhat backfired on those behind the project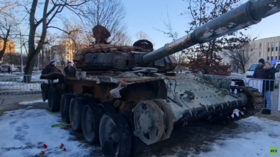 Actions in support of Kiev in Estonia, Latvia, and Lithuania went off script over the weekend as locals started bringing flowers to destroyed Russian tanks that had been put on display in the three nations' capitals to demonstrate solidarity with Ukraine.
A video released by RT's video agency Ruptly shows small bouquets of flowers lying on the ground near a burnt-out Russian tank in the Latvian capital of Riga. The destroyed equipment was put on display at one of the central city squares to mark the anniversary of the ongoing conflict between Moscow and Kiev, which started in late February 2022.
The tank is cordoned off by a fence featuring a placard explaining that it was destroyed in a "battle," where, according to the text, Russian forces lost nine tanks and other combat vehicles and some 50 Russian soldiers were killed. Nothing is said about the Ukrainian casualties.
Carnations can be seen lying near the tank and placard. These flowers are often used in Russia and the former Soviet states to honor the dead, a tradition particularly associated with those who lost their lives in World War II.
Another video that surfaced on social media shows a young man purportedly bringing flowers to the destroyed Russian tank exhibited in the Estonian capital of Tallinn. A uniformed man standing nearby then removes the flowers following a brief verbal spat with the young man.
The authorities in the Baltic states did not appreciate the idea of people bringing flowers to what they called tanks that once belonged to the "aggressor's military." On Tuesday, one person in Tallinn was fined after refusing to remove the flowers as demanded by the police, according to the local media.
In Vilnius, Vice Mayor Valdas Benkunskas went as far as to bring a waste container for "candles, carnations and other symbols of honoring the occupiers."
"As a vice mayor responsible for the city's waste management … I know very well what it is and where it has to go," Benkunskas wrote in a Facebook post on Tuesday, explaining the move and adding that anyone who "gets nostalgic about the days under the Russian [rule]" should place candles and carnations there.
Displaying destroyed Russian tanks in the Baltic States was a joint initiative by the defense ministries of Ukraine and the three Baltic nations. Ukrainian Defense Minister Aleksey Reznikov "thanked" his "colleagues" on Twitter for "sincere support and effective cooperation."
The Estonian Defense Ministry now plans for the destroyed tanks to be taken on a "tour" of several cities despite opposition from some local authorities, who have called it a political stunt and a dangerous move capable of leading to "confrontation."
You can share this story on social media: