Neighbor of Russia assesses mutual ties
Kazakh Foreign Minister says his country does not feel or see any threats from Moscow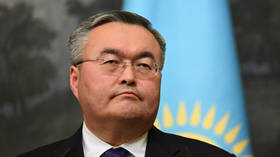 Kazakhstan sees no risks or threats coming from Russia, the Foreign Minister of the Republic Mukhtar Tileuberdi proclaimed during a joint press conference with US secretary of State Antony Blinken on Tuesday.
"At the moment, we do not see and do not feel any threats from the Russian Federation," Tileuberdi said, responding to a question from an American journalist.
The minister noted that his country is a member of the Eurasian Economic Union, the Collective Security Treaty Organization and the Commonwealth of Independent States (CIS), regional groups that unite several former Soviet states. He said that Kazakhstan considers relations with Russia as "an alliance that functions within the framework of these multilateral structures."
The Kazakh senior diplomat added that Astana continues to pursue a multi-vector foreign policy for mutually beneficial cooperation with countries from all across the world.
Tileuberdi also stressed that Astana was not helping Russian companies evade sanctions put in place by the US and its allies, but noted that the situation was difficult for Kazakhstan, because its economy is closely intertwined with that of its neighbor.
In September, the diplomat explained his country's stance on the ongoing split between Russia and the West by stating that Kazakhstan does "not need any external enemies or internal strife." Therefore, Tileuberdi said, Kazakhstan pursues a neutral position in foreign policy and aims to develop strong allied and strategic relations with Russia, China, the US and fraternal Central Asian states.
A similar stance has been taken by other Central Asian nations that are part of the so-called C5+1 group, which includes the US, Kazakhstan, Kyrgyzstan, Tajikistan, Turkmenistan and Uzbekistan.
Tileuberdi's comments came after the Biden Administration pledged on Tuesday to support the independence of the five Central Asian nations. That's while State Secretary Antony Blinken is meeting with top diplomats from these countries in Astana and Tashkent in an effort to convince them to reassess their relations with Russia.
Pointing to the ongoing military conflict in Ukraine, Blinken tried to suggest that the C5 countries, which abstained from a UN General Assembly vote to condemn Russia for its actions, could potentially also become the targets of "Russian aggression" if Moscow "sets its sights on them." Blinken urged the Central Asian states to "stand up and say 'no, we don't accept this.'"
Russia, meanwhile, has refused to comment on Blinken's visit to Kazakhstan, with Kremlin Spokesperson Dmitry Peskov stating that Moscow trusts in its partnerships with CIS nations.
You can share this story on social media: