Anime-inspired youth movement linked to wave of violence in Russia
More than 350 young brawlers have reportedly been detained in Moscow over the past few days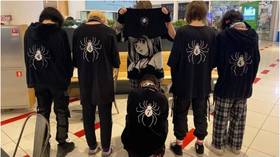 A wave of violence between groups of teenagers has hit Russia over the last week. The brawls, which broke out at malls, have been linked to the mysterious 'PMC Ryodan' youth movement that is believed to have been inspired by Japanese anime and manga.
According to multiple reports, the movement's name comes from a gang in the show 'Hunter x Hunter'. The members identify themselves by wearing clothes with a spider logo. The acronym 'PMC' (ChVK in Russian) means 'private military company'.
Most Ryodan members are underage and are reported to have 'bad blood' with football hooligans. According to news website Baza, they also oppose migrants and people from Russia's Muslim-majority Caucasus region.
The first widely-reported fight broke out on February 19 at the Aviapark mall in northern Moscow, according to Baza. The publication said several Ryodan members were involved in an argument with another group over chairs in a food court. Other reports said the fight erupted because of how one of the members of the group was dressed.
The teenagers reportedly agreed to meet for a showdown in the Aviapark the next day, as well as inside Marcos Mall, another popular spot in the northern part of the capital. Both confrontations were broken up by the police, Baza said. The Moscow Investigative Committee has also launched a probe into the matter.
Similar incidents were later reported in the Russian capital and other major cities. Four young people attacked and pepper-sprayed a person wearing clothes with a spider logo in a Moscow subway station, according to local media reports. Three of the assailants were said to have been minors, as well as the victim.
More than 350 people, including 319 minors, were detained in Moscow on Saturday and Sunday, RIA Novosti reported, citing a police source. Some were said to have been armed with pepper spray, knives, and airsoft pistols. Most of the detainees have since been released, while the parents of 11 of them have been charged with "dereliction of parental duties."
Officials in St. Petersburg, Russia's second-largest city, said a 17-year-old college student was arrested on suspicion of attacking a 15-year-old schoolboy in one of the malls. Social media, meanwhile, has been flooded with videos of groups of young people fighting each other and making threats against 'spiders'.
Kremlin spokesman Dmitry Peskov told reporters on Tuesday that it was important to prevent unlawful activities. He described Ryodan as a "negative pseudo-subculture that doesn't offer anything good to our young people."
Ekaterina Mizulina, a member of Russia's Civic Chamber – a body advising the government on civil society issues – said on Monday that she had asked the judiciary to formally ban Ryodan. Mizulina wrote on her Telegram channel that phenomena like Ryodan become popular because young people "are left to themselves" and spend time online instead of having access to sport clubs and other activities.
You can share this story on social media: