Water issues hit two Crimean communities
Two malfunctions in one day have affected tens of thousands of people on the peninsula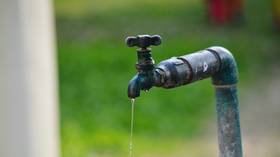 Two cities in Russia's Crimean peninsula experienced water supply outages on Tuesday, with tens of thousands of residents denied service.
Over 120,000 people in the western resort city of Yevpatoria were left without water after a malfunction at the central conduit in the nearby village of Pribrezhnoye, media reported, citing the local government.
The city administration has introduced rationing and canceled school classes, while repair crews deal with the pressure drop.
A second incident affected the northern town of Krasnoperekopsk, where some 25,000 people live, as well as at least four nearby villages, according to the utility responsible for the service. Some 10 meters of the damaged conduit will reportedly need to be replaced.
Crimea rejoined Russia in 2014, after its residents rejected an armed coup in Kiev and voted in a referendum to break away from Ukraine and move under Russian sovereignty.
The Ukrainian government considers the peninsula as its own territory and has pledged to retake it by military force. President Vladimir Zelensky declared last week that Kiev was making "military steps" in preparation for an attack on Crimea.
Freshwater security has been a hot-button issue for the peninsula, since Ukraine decided to cut deliveries via a canal, which comes from the river Dnieper and accounted for some 85% of supplies at the time. The situation was alleviated amid the ongoing armed conflict, when Russian troops seized control of the key waterway and restored the flow.
You can share this story on social media: