Crimean Bridge repairs completed after terrorist attack – official
All car lanes have been restored 39 days earlier than planned, a deputy prime minister has said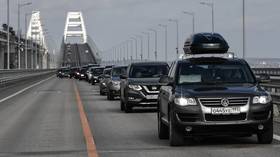 The Crimean Bridge, which was targeted by a Ukrainian sabotage attack several months ago, has resumed road traffic at full capacity, Russian Deputy Prime Minister Marat Khusnullin announced on Thursday.
"The Crimean Bridge is fully open for automobile traffic in all its lanes 39 days ahead of schedule," he said. Khusnullin added that the move came after the bearing capacity of the bridge's spans had been successfully tested.
According to the official, the repairs were organized to limit the impact on the structure's operations. "Already on December 5, two weeks ahead of schedule, we opened the right side of the bridge, which had been damaged the most," he commented.
The deputy prime minister also indicated that the authorities plan to restore the railway portion of the bridge in July 2023, and that work is underway to rebuild related infrastructure.
"Structural elements are currently being assembled and preparations are ongoing for their installation. The work is being carried out around the clock in two shifts, 305 people and 32 machinery units are involved," Khusnullin explained.
In the aftermath of the blast, the Russian authorities managed to resume road traffic on the bridge within several hours, and it has rarely stopped since. Railway service was also restored shortly after the incident.
The Crimean Bridge, which serves as a critical link between the peninsula and mainland Russia, was damaged in a truck explosion on October 8, which killed at least four people.
At the time, the blast caused a partial collapse of the road used by automobiles and a fire on the parallel railway section where seven fuel tanks were ignited.
Russian investigators said the attack had been orchestrated by Ukrainian military intelligence. Ukrainian President Vladimir Zelensky claimed that Kiev "did not order" the blast.
Moscow accused Kiev of using "terrorist tactics" and subsequently stepped up large-scale missile strikes against Ukrainian military installations and energy facilities, leading to rolling blackouts across the country.
You can share this story on social media: