Moscow takes aim at West over Nord Stream sabotage
The US and its allies hope the issue will "fade away into the sand," Kremlin spokesman Dmitry Peskov claimed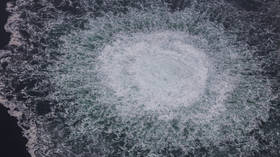 The West is opposed to a transparent investigation into the attack on the Nord Stream pipelines, Russian presidential spokesman Dmitry Peskov said on Wednesday. Earlier this week, Moscow's ambassador to the UN, Vassily Nebenzia, argued that evidence of Washington's involvement amounted to "more than a smoking gun."
Peskov claimed that "the need for a thorough and transparent investigation" contrasted with the aims of Western countries that would rather let the mystery go unsolved.
"We see a brick wall of unwillingness from the collective West [for a transparent investigation]. Quite the opposite, we see their desire to avoid the question and gradually let it fade away into the sand," he added.
Peskov insisted the incident should be classified as "a terrorist attack towards energy infrastructure, critically important for the European continent." According to the Kremlin spokesman, those suspicions were backed by "some surprisingly rather detailed investigations towards who was behind the sabotage."
Nord Stream comprised a set of two 1,200km natural gas pipelines stretching along the bottom of the Baltic Sea between Russia and Germany. On September 26, 2022, the pipelines were rocked by a series of underwater explosions. The incident occurred in international waters and shut off the supply of natural gas to Germany.
The blasts occurred during widespread discussions about limiting gas shipments from Russia to Europe as a response to the conflict in Ukraine.
Earlier this month, Pulitzer Prize-winning journalist Seymour Hersh claimed the sabotage was a "covert sea operation" planned and executed by the US with assistance from Norway. The reporter cited an anonymous source "with direct knowledge of the operational planning."
The US denied those claims, with White House National Security Council spokeswoman Adrienne Watson calling them "utterly false and complete fiction."
Denmark, Germany, and Sweden are currently investigating the incident. Peskov called Russia's exclusion from their ongoing probe detrimental to "establishing the truth and determining responsibility." On Tuesday, the Russian and Chinese ambassadors to the UN demanded a transparent international investigation into the matter.
You can share this story on social media: