Kremlin not optimistic after Western reaction to nuclear deal suspension
Moscow sees no sign that talks on New START may be renewed, but things could change in the future, the spokesman said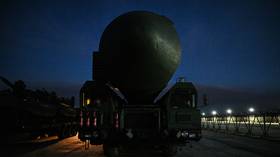 The Western reaction to Russia's decision to suspend its participation in the New START agreement gives little hope that talks on nuclear arms reduction will be renewed, Kremlin spokesman Dmitry Peskov has said.
On the other hand, "circumstances change" with time, so Russia will maintain "a patient approach, waiting for our opponents to mature for a normal dialogue," the official added, speaking to journalists on Wednesday. Moscow, meanwhile, will take care of its security, including in terms of strategic stability, he added.
On Tuesday, Russian President Vladimir Putin announced that Moscow intended to formally freeze its obligations under the New START treaty. The US-Russian accord limits both nations' nuclear stockpiles and allows them to monitor each other's military facilities to confirm compliance. Amid the conflict in Ukraine, however, Moscow and Washington have accused each other of failing to facilitate such inspections.
As he announced the suspension of New START, Putin accused NATO specialists of helping Kiev to launch drone attacks against Russian airfields hosting long-range bombers, which are part of the Russian nuclear deterrence. He also blamed Washington's and NATO's proxy war against Russia for destroying the foundation of trust on which the treaty was initially built.
US Secretary of State Antony Blinken branded the Russian move "deeply unfortunate and irresponsible" and said Washington will be "watching carefully to see what Russia actually does."
"We remain ready to talk about strategic arms limitations at any time with Russia irrespective of anything else going on in the world or in our relationship," he added.
NATO Secretary General Jens Stoltenberg lamented that "more nuclear weapons and less arms control makes the world more dangerous," speaking at a joint press conference with Ukrainian Foreign Minister Dmitry Kuleba.
Asked by Russian MPs on Wednesday about the possibility of a revival of New START, Russian Deputy Foreign Minister Sergey Ryabkov said that this would require Washington to change its anti-Russian behavior. He added that it would be impossible to amend the agreement in a way that would account for the nuclear arsenals of NATO members Britain and France, an issue that Putin raised during his speech.
The top diplomat also told the press that the Russian government had no intention of altering its military doctrine after suspending participation in New START. "If the situation requires that, additional analysis will be done" on the issue, Ryabkov added.
You can share this story on social media: