Putin introduces bill to suspend major nuclear treaty
Russian lawmakers will decide on the move on Wednesday, the State Duma speaker says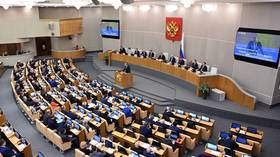 Russian President Vladimir Putin has introduced a bill on suspending the New START Treaty – the last existing nuclear accord between Moscow and Washington – State Duma Speaker Vyacheslav Volodin told reporters on Tuesday. Putin announced the initiative earlier in the day, during his annual address to lawmakers.
The president explained the decision by saying the treaty is a legacy of the times when Moscow and Washington did not perceive each other as adversaries. He also accused the US of seeking global hegemony and NATO of a desire to inflict a strategic defeat on Russia.
"The bill introduced by the president will be reviewed tomorrow at a plenary session," Volodin said, adding that lawmakers "will make a decision on it without delay." If adopted by the State Duma, the bill would then have to be approved by the upper chamber of the Russian parliament, the Federation Council.
"If the Duma approves it tomorrow, we will support it as well," a source within the Federation Council told Interfax news agency on Tuesday.
The New START Treaty was originally signed in 2010 by then-US President Barack Obama and his Russian counterpart, Dmitry Medvedev, and aimed to cut in half the number of strategic nuclear missile launchers deployed around the world. Under the treaty, both countries were supposed to allow the other side a limited number of inspections per year to verify compliance with the agreement. Unless extended, the treaty was set to expire in 2026.
During his speech on Tuesday, Putin accused the West of denying Moscow's requests to inspect Western nuclear facilities in accordance with the treaty under formal pretexts. At the same time, NATO members were demanding access to Russia's strategic facilities, even though the New START Treaty was only signed by Moscow and Washington.
You can share this story on social media: