Children among seven dead in Moscow fire (VIDEO)
Eleven more people were injured in the blaze at a hotel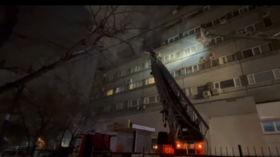 A massive fire broke out in a hotel in central Moscow on Tuesday, the Russian Emergencies Ministry said. The blaze hit the MKM hotel as one of its guests reportedly set his personal belongings on fire in one of the corridors.
The fire started on the fifth floor of the 16-story building. Videos reportedly made at the scene and published on social media show thick plumes of smoke coming out of the windows of the massive hotel building and billowing over its roof. According to some reports, people were shouting for help from the windows.
The blaze hit around 300 square meters (3,229 square feet), according to the emergency services. Rescue teams managed to bring 50 people, including seven children, to safety. A fire motor ladder had to be used to save people on the upper floors, according to TASS news agency.
At least seven people, including two children, died in the incident, the Emergencies Ministry said. Two of those killed in the fire were reportedly hotel guests. One of them was found in the hotel room where the fire allegedly broke out. At least 11 people were injured, according to the ministry. Three of them are reportedly in critical condition.
You can share this story on social media: