Estonian PM wants to rewire Russian brains
Russia's history books should be rewritten after its defeat, Kaja Kallas suggests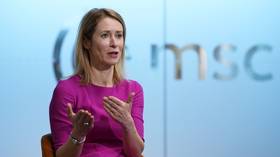 Estonian Prime Minister Kaja Kallas has suggested that the entire population of Russia should be re-educated to root out any traces of "imperialistic dreams," claiming that otherwise, with or without President Vladimir Putin at the helm, "history will repeat itself" and Europe will never be safe.
Expressing her certainty that with the help of NATO, Ukraine will eventually defeat Russia on the battlefield, Kallas claimed on Sunday it was high time to discuss the question of "accountability" for the conflict, and how to deal with Russians who "admire dictators."
"Our history books were rewritten after we regained our independence to reflect all the crimes that were committed. It was not the same for Russia," Kallas said during the last day of the Munich Security Conference.
"[The Russians] are defining themselves through the empire really; they are the masters of that empire. If people admire dictators, there is no obstacle to becoming one or submitting to one," she said, arguing that the only way to break this cycle is to rewrite history books.
"History matters… They are still teaching and learning from Soviet history books," she added. "And I'm not talking about Putin, not Putin, it's the nation and what is in it, what are they celebrating really… we have to cut that cycle."
Drawing parallels with Nazi Germany, Kallas argued that only after the Nuremberg trials "the German people got to know about the crimes that the Nazis committed, hence the change in mindset."
Estonia, along with the other Baltic states, has been among the hardline supporters of Ukraine amid the conflict with Moscow, pledging roughly 1% of its GDP in military assistance to Kiev, and strongly backing EU sanctions on Russia. Among other things, last year Tallinn's parliament passed a bill to completely phase out Russian-language schooling. Kallas defended the measure, which affects the Russian ethnic minority – around a quarter of the nation's population of 1.3 million. She insisted the reform is an entirely "normal" thing for Europe.
Since the fall of the Soviet Union, Estonian officials increasingly attempt to portray the period as an illegal "annexation," while revising the history of the Nazi German occupation, Estonian collaboration with the Nazis, and the Soviet move to incorporate the Baltic states in 1940. The Nazi-run Reichskommissariat Ostland region was the site of fierce battles during WWII, with German forces, as well as locally raised troops fighting against the advancing Soviet Red Army before the country was liberated in September 1944.
You can share this story on social media: