Ukraine targets Donetsk with massive shelling – monitor
A total of 40 rockets have been fired at the Russian city, a group monitoring attacks on the Donbass regions has said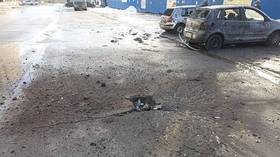 Kiev's forces have launched a rocket attack on the city of Donetsk, a local organisation monitoring Ukrainian strikes on the Donetsk and Lugansk People's Republics said on Sunday. In just two minutes, a total of 40 projectiles were fired at the Russian city, using multiple rocket launchers, the statement claimed.
It is so far unclear whether the bombardment resulted in any casualties. Videos allegedly taken at the scene and published on social media by Russian news outlets show some local shops were severely damaged, with smashed windows and holes in the walls. The area around the buildings is littered with debris.
According to the monitoring group, the Joint Center for Control and Coordination (JCCC), Ukrainian attacks earlier in the day also caused power outages at eight electrical substations throughout the city, leaving some 800 residents without power.
The projectiles struck an indoor market, municipal authorities in Donetsk said, causing "heavy smoke" in the area. At least three people were injured in the bombardment, the local territorial defense headquarters said.
The city mayor, Aleksey Kulemzin, accused Kiev of "systematically killing civilians" in Donetsk. According to Kulemzin, several apartment blocks were severely damaged in the strike, which caused fires.
An indoor market also suffered serious damage, the official said, adding that the Ukrainian forces were well aware that the market was a "place of mass gathering" of civilians and that Kiev's troops "knew exactly what they were firing at."
Donetsk has been shelled continuously by Ukrainian forces since 2014, when the two Donbass republics refused to recognize the Western-backed coup in Kiev. The attacks further intensified after Moscow launched its military operation in Ukraine almost a year ago.
On February 5, a Ukrainian strike killed three people in the city, as artillery rounds hit several residential blocks. According to the JCCC, Kiev's attacks have resulted in more than 4,000 civilian deaths in the Donetsk People's Republic alone since large-scale hostilities broke out.
You can share this story on social media: