The face of a different Russia: Who was Yegor Letov and why did he become a symbol of perestroika and the post-Soviet era?
The Grazhdanskaya Oborona bandleader, who died 15 years ago, is regarded as an iconic figure in his homeland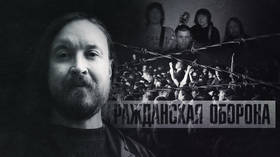 Yegor Letov holds a unique place in Russian culture. He was the founder and only permanent member of the band Grazhdanskaya Oborona [Russian for "Civil Defense," often abbreviated as GrOb, Russian for "coffin"], one of the most influential post-Soviet punk bands.
In the 1980s, Letov was the most popular performer of Siberian punk. He was also an anti-communist and a victim of Soviet punitive psychiatry. However, after the collapse of the USSR, he joined the subsequently banned National Bolshevik Party and supported pro-communist politicians. His late 1980s song "Everything is going according to plan" became a hit among amateur guitarists who gave it the opposite meaning. No longer seen as a Soviet man's stream of consciousness in times of stagnation, it became a hymn to a lost era. By the 2000s, Letov was no longer a marginal figure, and became one of the key performers of Russian rock, a genre defined by his grown-up listeners.
After Letov's untimely death at the age of 43, interest in his legacy grew, particularly among teenagers who had no memory of either the Soviet Union or the Russian Federation's first unstable decade.
Siberian cold
The future bandleader was born in Omsk, one of the major Siberian cities, in 1964. Letov got to know Western rock music early on – his older brother made pirated copies of albums that were banned in the USSR, intended for "underground" sale.
In the early 1980s, Letov founded his first band, Posev [Sowing], named after a literary journal published by descendants of white émigrés [those who fled the Russian revolution and opposed the Bolsheviks]. Political views had little to do with the choice of name. Letov simply found "the most shocking name that existed at the time." The band lasted for several years, released 11 albums, and broke up because of "total creative burnout." However, this early band left behind a lot of material (currently published by Letov's widow), some of which Letov reused in the context of his next and main project, Grazhdanskaya Oborona.
Letov and his new band were at the center of the Siberian punk scene. Siberian punk became known as a musical movement that developed in Siberia's key cities – Omsk, Tyumen, and Novosibirsk – in the 1980s. However, over time, the genre became difficult to define. Even if we take the term apart, neither part will fully characterize it. Is it really "punk" if it's equally far removed from the traditions of Western and Soviet punk? And can it be called "Siberian" if the regional ties grew considerably weaker as the genre spread in the post-Soviet space? Moreover, Siberian Punk had no specific sound characteristic – performers played everything from soft acoustic ballads to industrial on the verge of noise, synth-pop, and a lot more.
In the documentary film "Footprints in the Snow," which tells the story of the Siberian music scene, musicians from Letov's circle describe the genre as rooted in the region's history and climate. For centuries, Siberia has been a place of exile. Since the 19th century, "political criminals" were exiled to Siberia. Among them were noblemen who participated in the Decembrist uprising against Emperor Nicholas I, members of the Polish uprising (1830-1831), writers Nikolai Chernyshevsky and Fyodor Dostoevsky, and future leaders of the Soviet State – Vladimir Lenin, Leon Trotsky, and Joseph Stalin. In the USSR, Siberia became a place of exile for people convicted on political grounds (party members, representatives of national and anti-Bolshevik movements) and "former people" – those who lost their social status after the 1917 revolution (the nobility, clergy, and military). As a result of this repressive policy, the inhabitants of Siberia felt the conflict between the individual and the state on a much deeper level than residents of Moscow or St. Petersburg. Moreover, the cold climate naturally forced people to spend more time at home. This led to more isolated cultural consumption and left an imprint on how local music was produced, and how it reached the listener.
Ice under the Major's feet
Soon after the band Grazhdanskaya Oborona was founded, Letov's lyrics became more outspoken in their criticism of the Soviet reality, and the musicians fell under the scrutiny of the KGB. Letov's closest associate Kuzma Ryabinov was sent to undergo military service despite having heart problems, and the lead vocalist was taken into custody.
Letov himself was charged with preparing a terrorist attack at an oil refinery. In jail, the musician decided to commit suicide and, in a suicide note, blamed the KGB major in charge of the case for his death. However, before Letov managed to take his own life, he was sent to a psychiatric hospital. In his three months there, Letov was treated with neuroleptics – drugs he compared to a "lobotomy". After his release, Letov wrote several songs which he called "antisocial". The songs tell the story of resistance – not just against the repressive machine of the Soviet Union, but against any social system that tries to subjugate a person. Resistance against "THEM", as he sings in one of the songs.
Having more or less successfully survived political persecution and wishing to preserve creative independence, Letov built a home studio in his apartment. In this small room, later called GrOb Records, notable punk bands from all over Siberia recorded their albums. As for Letov, he worked hard and fast. Once, he recorded three albums in a month.
Letov's characteristic manner of singing (a pure voice that broke into growls, recorded with overload) and his recordings (with deliberate violations of basic norms) often scared off the "average listener," but allowed him to find "his" audience.
The concert activity of Grazhdanskaya Oborona and other Siberian bands was largely non-commercial in nature. Up to 1987, when small and medium-sized businesses were partially legalized, the performers didn't have much choice – as an eyewitness related, the musicians earned enough to "get a drink." Later, when the opportunity to earn big money arrived, they hardly took advantage of it, unlike many popular big-city bands.
I will always be against
Letov was afraid of becoming mainstream ("pops" as he called it), and deliberately shut himself off from its influence. This is often seen as his reason for joining the marginal National Bolshevik Party. Its ideology was a mix of radical left and right ideas and it generally supported pro-communist candidates. Such views left many of Letov's listeners perplexed, but his political evolution largely stemmed from the evolution of his poetic techniques.
Letov's early lyrics were based on exaggeration and ridicule of the official Soviet rhetoric. He placed these ideas in an unusual context and brought them to the point of absurdity. After the collapse of the Soviet Union, the irony turned into post-irony. The themes did not change, but if earlier they were sarcastically played out, in the 90s they were developed in earnest. In his music, the future was shown abstractly – the destruction of the old world carried more weight than the ultimate goal for the sake of which it was destroyed.
The collapse of the USSR and the subsequent ideological vacuum motivated artists to find their own utopia. As the music critic Mark Fischer wrote, culture lost its driving force, and society found itself at a dead end, which Francis Fukuyama called "the end of history." In these circumstances, Letov's dreams of a "failed future" turned to the past. A good example is last year's clip of the song "Everything is going according to plan" drawn up by the Midjourney neural network. It shows the Soviet Union, where, as Letov's alter ego believes, "everything will be free," everyone will be "happy," and "there will probably be no need to die at all." The main images show orbital stations crowned with a red star, a large gathering of people, golden church domes, and nature painted bright red.
A tour called "Russian Breakthrough" was organized shortly after Letov became a member of the National Bolshevik Party (NBP). Grazhdanskaya Oborona and other bands toured Russia and former USSR countries, positioning themselves as an alternative to President Boris Yeltsin.
Unlike the writer and founder of the NBP Eduard Limonov, Letov wasn't active in party affairs. When his role in the NBP is discussed (Letov held party ticket No.4), it's usually noted that he attracted "hundreds or even thousands of punks" to the organization. According to Limonov, Letov was on the "red flank" (in Limonov's memoirs, Letov constantly repeats, "Bring in more red, Eduard"), balancing the nationalist agenda represented by philosopher Alexander Dugin.
Several years after joining the NBP, Letov drifted away from the party and no longer associated himself with it. But, as Limonov notes, he did not surrender his party ticket and was formally a member of the NBP until his death.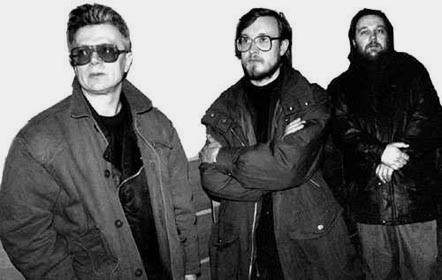 I will go to America
The band's first US tour took place in 1999, shortly after the bombing of Serbia. As Letov's widow Natalia Chumakova recalls, the musicians had mixed feelings about the trip: "It was very tempting to go to the USA, but at the same time, the US was kind of like the enemy, considering the Serbia bombings and all that. So, they came up with an idea to name the tour 'Rocket from Russia', hoping that this motto would write everything off." Eventually, the band did travel to the USA, but without one of its guitarists, who "flatly refused to go."
The name of the tour is a reference to the third album of The Ramones, "Rocket to Russia," which demonstrates not only Russian-American political antagonism, but also Letov's commitment to American punk, not the earlier British movement. Although The Ramones also had a heavy continental European influence, with members from Berlin (Dee Dee) and Budapest (Tommy).
Letov loved the book "Please Kill Me: The Uncensored Oral History of Punk" by Legs McNeil and Gillian McCain, in which representatives of the American counterculture discuss the birth and extinction of the punk movement. As music critic Maxim Semelyak writes, Letov's only question on reading the book was, "Why am I not there?"
At the first concert in New York, Letov made a speech and declared that US "will have to answer for Serbia." The audience came with Soviet, Russian, and Serbian flags and blocked the road after the concert. They were dispersed by the police, and the US tour organizer disappeared with the money for the forthcoming concerts.
Outside all dimensions
Renewed interest in Letov and his band Grazhdanskaya Oborona sprang up in the 2000s. By that time, Letov was starting to lose his marginal status dictated by the music and political actions of the 1990s. The comeback was facilitated by his long-time fans, who were familiar with Grazhdanskaya Oborona from their school and university years. Now adults, they had taken up posts in large media institutions that dictated the cultural agenda. For example, one of the early slogans of Afisha magazine, largely responsible for green-lighting Letov, was: "it will be as we say."
Moreover, a new music infrastructure emerged in Russia. Concerts now took place in clubs and stadiums instead of Soviet cultural centers and cinemas. Russian versions of popular magazines like Esquire, Playboy, and Rolling Stone replaced self-published rock magazines. Russia's top rock stars professed their love for Letov's songs, interviews with Grazhdanskaya Oborona band members were featured in the press and magazines, and their music accompanied fashion shows. Considered marginal in the 1990s, nostalgia for the Soviet Union now found its way into mainstream culture. As the author of a recent study on Letov and his friend Maxim Semelyak writes, "If in 1993, people sympathized with the revolution out of hunger, ten years later they did so out of satiety."
In the 2000s, Letov recorded several albums closer to garage and psychedelic rock than Siberian punk. In those years he retired from politics, called himself an environmental anarchist, and had plans to record more albums. But in 2008, Letov suddenly died of cardiac arrest at the age of 43.
Letov's untimely death secured his intellectual and musical legacy. His poems were published, the first official monographs came out, and the Omsk Symphony Orchestra performed the band's songs. By the end of the 2010s, Letov became popular with GenZ, who made memes out of his songs.
Despite his passing, Letov's memory does not fade but shines with an even brighter light. Young musicians dedicate tributes to him, his widow publishes recordings that were considered lost, Letov's music is actively discussed, and a Vietnamese beetle has been named after him. As his own song goes, "Everything is going according to plan".
You can share this story on social media: