Lithuanian politician quotes Hitler in mayoral debate
A TV discussion for candidates vying to run the EU member's cultural capital took an unexpected turn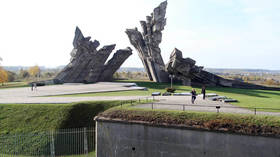 One of the candidates for mayor of Kaunas in the upcoming local elections dropped a quote from Adolf Hitler during Monday evening's debate on Lithuanian state television. The EU member state's Jewish community has condemned the remarks as inappropriate in any context.
Darius Treciakauskas of the Christian Union was among the six candidates who faced off in the first debate, which was broadcast by LRT. He chose to invoke the "wisdom" of the Nazi German leader to criticize the current city government for the slow pace of renovating the housing blocks.
"A man known to everyone, Adolf Hitler, said the rulers are happy when people don't think. Unfortunately, this is our situation today," Treciakauskas said on air. "Fish rots from the head, our people say, and it is so. These repairs could have been done long ago, but in reality the government didn't feel the need."
Lithuania's Jewish community reacted to the remarks on Facebook, saying that "quoting the murderer, regardless of the context, is promoting his crimes." Over 90% of Jews in Lithuania were killed in the Holocaust, and fewer than 2,300 remain today.
"Quoting Hitler during the Kaunas mayoral debate is too much," said Culture Minister Simonas Kairys, who used to be a member of the municipal council.
The Lithuanian Human Rights Center has called on the Christian Union to denounce its candidate's remarks and apologize to the public, according to LRT.
Located in central Lithuania, Kaunas was the country's first capital (1920-1939) and is still considered a center of cultural, academic and business life.
Monday's debate was also controversial because the draw did not include the current mayor, Visvaldas Matijosaitis, meaning that he could not respond to criticism. The rest of the candidates are supposed to debate on February 22, with the local elections scheduled for March 5.
The former Soviet republic joined the EU and NATO in 2004. Treciakauskas's party was founded in 2020, as a splinter of the ruling Homeland Union, and has no parliamentary representation.
You can share this story on social media: