West calls the shots in Ukraine – Russian ambassador
Only NATO states can force Kiev into holding serious peace talks, Vassily Nebenzia has insisted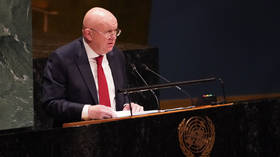 Ukraine has shown no interest in finding a diplomatic solution to its ongoing conflict with Russia, Vassily Nebenzia, Moscow's permanent representative to the United Nations, said on Friday. He claimed that, while the West could force Kiev to the negotiating table, it has failed to take such an initiative.
In an interview with RT's Caleb Maupin, Nebenzia was asked about the prospects for a settlement of the Ukraine conflict given that Western leaders insist that the conflict can end only with Moscow's defeat.
The envoy noted that the West is "now talking about dismembering... and destroying Russia," adding that some statements by Western officials on the matter "go beyond not just simply diplomacy but civilized communication."
He reiterated that Russia is still ready for serious negotiations, which were interrupted by Kiev "on the order of their masters and sponsors in April last year." Against such a backdrop, the high-ranking diplomat noted that Moscow did not see any Ukrainian attempts to conduct meaningful dialogue, pointing out that Ukrainian President Vladimir Zelensky himself had signed a decree prohibiting talks with the current Russian leadership.
Nebenzia went on to blast Kiev's diplomatic initiatives on the matter as a "joke," referring to a ten-point "peace formula" proposed by Ukrainian President Vladimir Zelensky that, in particular, demanded that Russia withdraw its troops from all territories claimed by Kiev and that a tribunal to prosecute Moscow's alleged war crimes be established.
Besides, Moscow knows for sure that Kiev is "not calling the shots," Nebenzia said. Those who can force Kiev to conduct serious negotiations, "they live in this country [the US], somewhere in Europe, on one of the islands across the English Channel," he added.
"If they are willing to do so, they will engage, but we don't see any willingness on the part of the sponsors of Kiev to go to negotiations with Russia and do it seriously," the ambassador pointed out.
Russia believes that Western countries are waging a proxy war against it in Ukraine. On Tuesday, Russian Defense Minister Sergey Shoigu claimed that the US and its allies are trying to prolong the conflict between Moscow and Kiev by supporting Ukraine with heavy weaponry, warning that such policies could "lead to an unpredictable escalation."
In spring 2022, Russia and Ukraine held several rounds of talks, with Moscow initially voicing optimism about the peace process. However, Ukraine abruptly withdrew from the negotiations shortly after a visit by then-British Prime Minister Boris Johnson to Kiev on April 9.
You can share this story on social media: