Serbia responds to 'cancel-Russian-culture' calls
Aleksandar Vucic told the media that his government, despite being "on the European path," will not cancel the Russian classics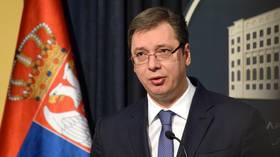 Serbia will not jump on the Russia-bashing bandwagon and cancel the country's culture, President Aleksandar Vucic has told media. He explained that preserving the Russian classics in the public domain is as important as guarding national financial interests.
In an interview with Serbia's Prva news channel broadcast on Friday, Vucic acknowledged that his country largely depends on the West in terms of investment. For this reason, the president noted, those who call on Belgrade to cut these ties "don't know how the country works."
Vucic went on to argue that the notion that Serbia should "break completely with Russia," and "throw out [novelist] Dostoyevsky, [composer] Tchaikovsky and [writer] Tolstoy" is equally absurd.
"That can't be Serbia, we have to take care of the soul of our people," the president clarified.
Last month, during a press conference in the Russian embassy in Belgrade, President Vladimir Putin's special envoy on international cultural cooperation, Mikhail Shvydkoy, announced that Belgrade and Moscow were discussing holding a year of cultural exchange in 2024.
Several renowned Russian musicians will visit Serbia already this year. On top of that, a meeting of Russian and Serbian academia is also in the pipeline, Shvydkoy revealed.
Following the start of Russia's military operation against Ukraine in late February 2022, a number of European cultural venues have canceled the staging of artworks which have Russian origins and have also barred some Russian performers who have refused to denounce Moscow's actions.
Certain politicians in the EU have also spoken in favor of such bans.
As recently as early January, Lithuanian culture minister Simonas Kairys spoke in favor of a "mental quarantine" on Russian culture, claiming the latter is being used by Moscow as a "weapon."
Earlier, the Cardiff Philharmonic Orchestra in Wales erased music by Russian composer Pyotr Tchaikovsky from a concert program, while Britain's Royal Opera House called off a tour by the Bolshoi Ballet.
Netflix, in turn, put on hold the production of 'Anna K,' an adaptation of Leo Tolstoy's novel 'Anna Karenina'.
Commenting on these tendencies, Russian President Vladimir Putin has drawn parallels between Western efforts to cancel Russian culture to the Nazi practice of book burning.
You can share this story on social media: