Russia comments on prospects of peace treaty with Japan
The issue of ending a decades-old war dispute with Japan is "closed" for Moscow, the Russian Foreign Ministry said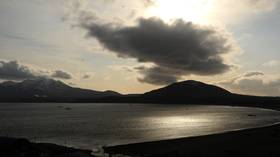 Any plans to strike a peace treaty with Japan are off the table for Moscow, a Russian Foreign Ministry spokesperson has said, citing Tokyo's hostility towards Russia.
"As for the subject of a peace treaty, as you know, it has been closed for us," Maria Zakharova said during a regular media briefing on Friday. The spokeswoman noted that the Foreign Ministry clearly articulated its position on the issue last March, stating that the "unfriendly" stance of Japan makes any further negotiations impossible.
The remarks came shortly after Japanese Prime Minister Fumio Kishida vowed to prioritize reopening talks with Moscow on the peace treaty, and resolving the territorial dispute over the South Kuril Islands, referred to by Tokyo as the "northern territories."
"The fact that 77 years after the end of the war, the issue of the Northern Territories has not been resolved and there is no peace treaty between Japan and Russia is extremely regrettable... The Japanese government is committed to resolving the territorial issue and concluding a peace treaty," Kishida said on Tuesday during a ceremony to commemorate the day of the "northern territories."
During the event, Japan referred to the four southern islands of the Kuril chain as "illegally occupied" by Moscow for the first time in five years. "It is completely unacceptable that the Northern Territories have yet to be returned since the Soviet Union's illegal occupation of them 77 years ago," a joint statement adopted by the government and civic groups at the ceremony stated.
Russia and Japan have technically remained at war with each other for almost eight decades, after failing to reach a post-WWII settlement. Tokyo disputes Russian sovereignty over four of the islands in the Kuril Archipelago, which the Soviet Union captured during the war. In the San Francisco Treaty of 1951, Japan relinquished its claims to the Kurils, but later claimed the "northern territories" were never a part of the archipelago.
Following the collapse of the Soviet Union, Moscow offered some compromises to Japan on the issue, namely a simplified visa mechanism for separate Japanese families and joint economic development of the islands. However, the two countries have never reached a final settlement on the issue.
You can share this story on social media: