Kremlin reacts to Nord Stream sabotage claim
A fresh article alleging a US role in the explosions highlights the need for an international probe, Dmitry Peskov says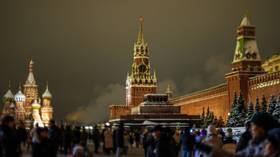 Russia is concerned by attempts to silently wind down the investigation into last year's explosions on the Nord Stream gas pipelines, Kremlin Press Secretary Dmitry Peskov has said. A report by renowned American investigative journalist Seymour Hersh, blaming the US for the sabotage, should spur attempts to find out what happened, he stressed.
Articles such as the one by Hersh show "the need for an open international investigation into this unprecedented attack on this critical infrastructure," Peskov told the media on Thursday. "It's impossible to leave this without finding the perpetrators and punishing them."
Russia has already spoken about data which "points to the involvement of the Anglo-Saxons [the US and the UK]" in this incident, and there is "certain overlapping" between this information and the report by the Pulitzer Prize-winning journalist, the Kremlin spokesman said.
Peskov argued that although Hersh's journalistic investigation cannot be viewed as source material, "it's a very important piece, which… must provoke the acceleration of the international probe. But we, on the contrary, witness attempts to silently wind down such international investigation."
The bombshell report, which came out on Wednesday, claimed the US was behind the blasts on the Nord Stream pipelines. An informed source told Hersh that explosives were placed on the pipelines in the Baltic Sea back in June 2022 by US Navy divers under the guise of a NATO exercise, and were detonated in late September.
The sabotage of Nord Stream 1, which delivered Russian natural gas to Europe through Germany, along with the newly completed Nord Stream 2, rendered the infrastructure inoperable.
Separate probes into the explosions being carried out by Germany, Sweden and Denmark have yet to produce any concrete results. German Public Prosecutor General Peter Frank said last week that even the suspicion "that there had been a foreign sabotage act [in this case], has so far not been substantiated."
What happened to the Nord Stream pipelines was a "very dangerous precedent" because "if someone committed such a thing once, they can do it anywhere in the world a second time," Peskov warned.
"There aren't that many countries in the world that are capable of carrying out such sabotage," he added.
You can share this story on social media: