Schoolgirl stabs classmate over 100 times
A helicopter was sent to airlift the severely injured girl from a school outside Moscow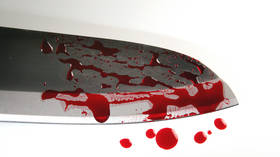 An 11-year-old brutally assaulted a classmate at a school located in the Russian city of Khimki, just outside Moscow. She inflicted over 100 knife wounds on the victim which occurred in the school's restroom early on Tuesday.
According to local media reports, the two girls went together to the lavatory, excusing themselves from class. A dispute then apparently broke out, with the suspect assaulting her victim, stabbing and slashing her more than 100 times with a large kitchen knife she brought from home.
Following the altercation, the assailant returned to class, announcing that she had "killed" her classmate.
The incident triggered a massive response, with police and emergency services arriving at the school. The victim, who survived the bloodbath, was airlifted to a hospital in critical condition.
While it was not immediately clear what exactly prompted the conflict between the two 11-year-olds, some media outlets suggested it was motivated by jealousy.
The local office of Russia's investigative committee said it had launched a criminal probe into premeditated attempted murder, as well as suspected negligence exhibited by school officials.
According to Russian law, however, a person is subject to criminal liability only after reaching the age of 14, and thus the suspect only faces incarceration at a juvenile detention center for a maximum of 30 days, as well as being placed on a special watch list.
You can share this story on social media: