Russia warns of 'unpredictable escalation' in Ukraine
The defense minister has urged the US and its allies not to send heavy weaponry to Kiev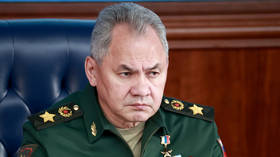 The US and its allies are actively trying to prolong the conflict between Moscow and Kiev for as long as possible, Russian Defense Minister Sergey Shoigu stated on Tuesday.
In order to ensure that the fighting continues, the West has begun delivering heavy weapons to Ukraine, while openly urging Kiev to capture Russian territories, Shoigu said, warning that "such moves are essentially dragging NATO countries into the conflict and could lead to an unpredictable escalation."
Last month, the US, Germany, and a number of other NATO states announced that they will supply Ukraine's forces with modern main battle tanks such as the Leopard 2 and the M1 Abrams. Washington also said it will supply Kiev with ground-launched small diameter bombs (GLSDB) with a range of up to 150km – which would allow Ukraine's forces to strike targets deep within Russian territory.
Commenting on these deliveries, Shoigu stated on Tuesday that the Russian forces continue to "grind up" the weapons and equipment being supplied to Kiev, noting that the equipment is being destroyed both on the routes of delivery and in combat positions.
Moscow has warned against providing increasingly advanced weapons to Ukraine, arguing that this will only lead to more bloodshed and will ultimately fail to change the outcome of the conflict.
Russia has also said that the West's increasing involvement and Washington's "reckless neo-colonialist expansionist policy" have put the world at risk of a devastating global war.
On Monday, UN Secretary General Antonio Guterres warned that the world is "sleepwalking" into a "wider war," and called on all countries to recommit to the UN Charter and put human rights and dignity ahead of short-term thinking focused on economic interests and power.
You can share this story on social media: