Entrepreneur becomes first Russian woman to win Mrs. Universe
The mother of two from Udmurtia is taking the crown home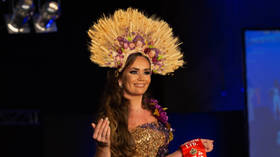 A Russian businesswoman and mother of two won the title of Mrs. Universe on Sunday. This is the first time a woman from the country has captured the crown since the competition was created.
Elena Maksimova, 34, won the contest, which took place in the Bulgarian capital of Sofia last week. She was representing the title of "Mrs. Udmurtia" as many competitions have banned contestants from participating under the Russian flag due to the ongoing conflict in Ukraine.
The newly-crowned Mrs. Universe said the event was highly competitive, as it featured a record number of contestants.
"It was a great honor to represent the country at such a serious event and I am very happy to come back victorious," Maksimova said, as quoted by her spokesperson.
Mrs. Universe was created in 2007 with the goal of celebrating "the most honorable married woman" between the ages of 18 and 55. In addition to physical beauty, all of the contestants must have their own careers and be involved in a "significant cause" that helps other people.
The most recent Miss Universe 2022 crown went to US model R'Bonney Gabriel. However, the pageant was the subject of some controversy, as Ukrainian competitor Viktoria Apanasenko slammed the contest as "terribly painful" in her interview to the Daily Beast in January. She claimed that her attempts to use the contest to raise awareness about the ongoing hostilities in Ukraine were not met with the proper amount of support.
You can share this story on social media: