MMA legend Fedor Emelianenko ends career
'The Last Emperor' has been defeated by Ryan Bader in his retirement fight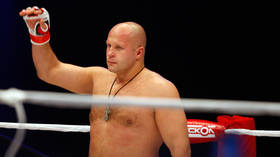 Russian mixed martial arts star Fedor Emelianenko, regarded by many as one of the best fighters of all time, has announced his retirement from the sport after a career spanning more than two decades.
In his retirement bout on Saturday, the 46-year-old faced off against another legend, Ryan Bader of the US, for the Bellator heavyweight championship belt, but lost by technical knockout.
The referee stopped the fight in Inglewood, California in the first round after Bader, who is seven years younger, grounded Emelianenko and delivered a series of punches to his opponent. The American became the first athlete to defeat Fedor twice, following a previous victory back in 2019.
In his post-fight interview, the usually modest Emelianenko apologized to the fans that he couldn't win but expressed gratitude for their support. "I quit. Thanks to everyone," he said before taking off his gloves and putting them on the canvas.
"It was bittersweet," Bader said about his win. "I idolize him [Emelianenko] like every MMA fan and fighter coming up. He put the sport on his back. That is a legend right there and I'm so proud to be a part of his story."
The Russian fighter, nicknamed 'The Last Emperor,' is leaving the sport with an impressive record of 40 victories and 7 losses.
Trained in the Sambo martial art, developed in the Soviet Union, Emelianenko has been equally impressive in boxing and wrestling.
He made a name for himself in the MMA in the 2000s when he went on a decade-long winning streak against some of the world's best opposition, competing in Japan's Pride Fighting Championship and other promotions.
Prior to his match with Bader, Emelianenko had held just two fights in the last four years, winning both of them. He had been busy with activities outside the octagon, including his job as president of the Russian MMA Union.
You can share this story on social media: