Huge decline in abortions in Russia – minister
The number of procedures has more than halved over the past decade, according to the country's health minister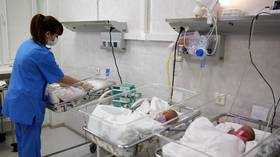 Abortion numbers in Russia have fallen significantly over the past decade, Health Minister Mikhail Murashko has said. The official made the remarks on Wednesday during a meeting between government ministers and senators with Russia's upper chamber, the Federation Council.
"Looking at the past decade, the [abortions] figure has more than halved," Murashko stated.
The minister explained that the reduction in numbers was driven by pre-abortion counseling services. Last year, more than 44,000 women in Russia gave up the idea of having the procedure after receiving psychological and social help, Murashko noted. According to Russia's most recent demographic doctrine, adopted back in 2021, the authorities are aiming to provide counseling to at least 80% of women who are considering abortions.
The head of Russia's Federation Council, Valentina Matvienko, praised the progress which has been made. "Of course, we need to move forward in this regard. First of all, to provide medical and psychological assistance to women, which, of course, contributes to a significant reduction in abortions," said the official.
Matvienko also credited the efforts of private humanitarian organizations, as well as the role of the Russian Orthodox Church in contributing to the downward abortion trend.
"Perhaps no less important is the fact that the standpoint of society itself has changed: more and more citizens are believing that abortion is unacceptable," she noted.
You can share this story on social media: