UK publisher 'refuses royalties' to Russian photographer
Arseniy Kotov's stance on the Ukraine conflict "caused harm" to the brand, it was claimed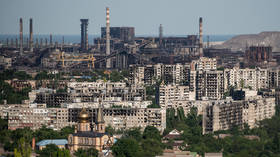 A British publisher has allegedly refused to pay royalties to Russian photographer Arseniy Kotov because of his position on the Ukrainian conflict. Kotov said the company had accused him of damaging its brand, and that he was told the proceeds would instead be donated to charity.
The row, which Kotov revealed to RT on Wednesday, involves London-based publisher Murray & Sorrell FUEL Ltd. In 2020, the company released a book titled 'Soviet Cities: Labour, Life & Leisure', which features Kotov's work. The following year, it released another book of his photos, 'Soviet Seasons'.
A message that Kotov received from FUEL, which he showed to RT, indicated that the firm "is not able" to pay royalties. It cited "the war in Ukraine" and the photographer's "clear support of it" on social media.
FUEL claimed it had received complaints about Kotov from its business partners, and that it had become "practically impossible" to sell his books. Kotov also allegedly "caused harm" to the publisher's brand.
"We had a choice to either destroy your books or donate profits and royalties to the British Red Cross Ukraine Crisis Appeal," read a message shared by Kotov. "We have made no profit from Soviet Seasons anyway," it added.
Kotov told RT that he believes FUEL to be in breach of contract and that he intends to pursue legal action. He called the company's justification for its action "an invented political reason."
RT has contacted FUEL for comment about the photographer's claims.
Kotov acknowledged that his business opportunities in Europe have dwindled since the Ukrainian conflict broke out last February, but added that his professional career in Russia remained steady. Royalties that he received from FUEL last year from each book were in the low four digits in British pound sterling, according to a financial statement he shared.
RT featured Kotov's work last month in a report about the city of Mariupol, months after Russian troops captured it.
You can share this story on social media: