US national arrested over 'Dr Calf' protest on Red Square
Moscow police told the media the woman paraded a calf while chanting "animals are not food"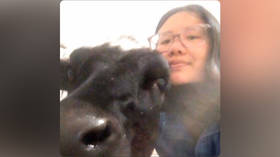 A court in Moscow has sentenced a US citizen who walked a calf in Red Square on Tuesday to 13 days of administrative arrest and a fine. The woman is said to be an animal rights activist, and made her appearance in the heart of the Russian capital, apparently aiming to persuade people to go vegan.
Alicia Day, 34, was accused of staging an unauthorized protest that obstructed the movement of pedestrians, as well as resisting police.
On top of the administrative arrest, which implies a brief jail term, she was ordered to pay a fine of 20,000 rubles ($285).
"The US national, who is a vegetarian and animal rights activist, was walking in Red Square… using a calf as visual propaganda and shouting out the slogan 'animals are not food'," the judge said Wednesday, as quoted by Russian media.
The offender offered a different version of events. Day told journalists she bought the animal on the ad website Avito, and named it 'Doctor Calf.'
The woman, who speaks Russian and lives on a tourist visa in the town of Reutov in Moscow region, explained that she "just wanted to show Doctor Red Square," which she described as a "beautiful place in our beautiful country."
When asked if she had staged any similar performances outside the White House in Washington DC, Day replied in the negative, adding that she is originally from New York.
The activist said she carried out similar demonstrations in her hometown, featuring pigs.
As for the calf, the Russian authorities have impounded the animal and sent it to a shelter.
According to Britain's Daily Mail newspaper, the activist has run afoul of UK authorities several times in recent years. She apparently rescued pigs from slaughter houses and lived with them in a tiny London apartment.
You can share this story on social media: