Ex-Zelensky patron targeted in anti-corruption sweep
Ukraine's security agency has targeted several high-profile figures including a former interior minister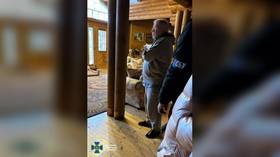 Ukraine's security agency, the SBU, launched a number of raids on Wednesday, targeting a number of prominent figures including former interior minister Arsen Avakov and former Dnepropetrovsk governor Igor Kolomoysky, local media reported.
Avakov, who served in cabinet between 2014 and 2021, confirmed that an SBU search was carried out at his property in comments reported by Ukrainskaya Pravda. Agents "were looking into Airbus contracts from six years ago" but found nothing, he told the news outlet.
The Interior Ministry purchased dozens of French-made helicopters in 2018. One of these crashed in a residential area last month, killing more than a dozen people. Avakov's successor in office, Denis Monastyrsky, was among the victims.
There was speculation in Ukraine that the government had overlooked safety considerations when it bought the used H225 aircraft. Helicopters of this type were involved in a deadly crash in the North Sea off the Norwegian coast in 2016, along with several other incidents.
Another target of the SBU raids, Kolomoysky, was appointed as governor in 2014, but is better known as a controversial billionaire businessman with ties to President Vladimir Zelensky. Before launching his political campaign in 2019, the Ukrainian leader was a comedian, whose headline show was hosted by a media holding controlled by Kolomoysky.
According to the news agency UNIAN, SBU agents were interested in Ukrtatnafta and Ukrnafta, two energy companies, which the Zelensky government nationalized in November using emergency wartime powers to change ownership of the assets. Employees of the oil producer Ukrnafta later pleaded with Zelensky to intervene and recall SBU agents, who were blocking the company HQ in Kiev.
Another person reportedly targeted by the SBU on Wednesday was real estate developer and long-serving MP Vadim Stolar. He was most recently elected representing the Opposition Bloc – For Life party, which Zelensky outlawed last year.
David Arakhamia, who heads the parliamentary faction of Zelensky's political party, Servant of the People, claimed on social media that Wednesday's action was part of the "spring jailings" – promised prosecutions relating to alleged corruption in Ukraine.
"The country will change during the war. If somebody is not prepared to change, the state will come to them and help change," he warned.
You can share this story on social media: