Key Donbass city faces encirclement – official
Russian troops have positioned themselves to prevent the resupply of Ukrainian troops in Artyomovsk, a key aide claims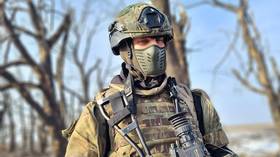 Russian troops are now positioned to attack the only road that Kiev can use to resupply troops in Artyomovsk, a gubernatorial aide has claimed. The city that Ukraine calls Bakhmut is of strategic importance as part of Ukrainian defense lines in Donbass.
Yan Gagin, a military expert who serves as an adviser to Denis Pushiln, the acting head of the Donetsk People's Republic, said Russia has already hit enemy supply convoys near Artyomovsk.
Speaking on Russian television on Wednesday, he said it was a matter of time before the road is "fully controlled," paving the way for the capture of the city, which he described as being "in an operative encirclement."
Artyomovsk is part of a 70km Ukrainian defense line created since Kiev initiated the fighting in Donbass in 2014. Russia claims sovereignty over the city along with the rest of the Donetsk People's Republic. The province joined Russia in October after a referendum, which Kiev rejected as a "sham."
There have been reports of Russian advancement near Artyomovsk in recent weeks. After intensive fighting in mid-January, Russian troops captured the town of Soledar, located just northeast of the city.
Pushilin warned the media against overhyping the importance of Artyomovsk or any other particular settlement for the outcome of the military operation. The Ukrainian side attached symbolic value to it, as they previously did with Soledar, he argued in an interview on Tuesday.
"We've seen this story about a small town… that was touted as invincible. Plenty of Ukrainian soldiers got grinded there because they didn't spare any," he said.
Artyomovsk has strategic value because its capture would allow further advancement, Pushilin acknowledged. But losing other towns and cities would do damage of similar scale, he said.
You can share this story on social media: