Russian Navy rescues French national
The man and his dog were adrift in the Atlantic Ocean after his yacht sustained damage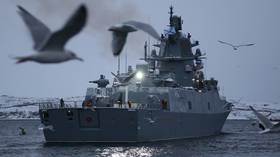 A French national in distress was rescued by the Russian tanker 'Kama' in the Atlantic Ocean, the country's defense ministry said on Tuesday. A Russian naval detachment, led by frigate Admiral Gorshkov, was on a patrol mission when it received a distress call from a small vessel, the military revealed.
The tanker 'Kama' was dispatched immediately to investigate the call, deviated from its route, discovered the damaged yacht and boarded it. The crew took aboard "one man, his dog and their personal belongings," the military statement read.
The rescued man is a French national who was traveling solo, accompanied only by his dog. His yacht was damaged in a storm, which ended up disabling its steering equipment and flooding the vessel.
Failing to fix the yacht on his own, the man was forced to send a distress call and was picked up by the Russian sailors. The man was given first aid by the crew and will be taken to the nearest port on his request, the military added.
You can share this story on social media: