Iconic Russian rifle upgraded
The new Kalashnikov AK-12 incorporates feedback from troops' experiences in the Ukraine conflict, the manufacturer says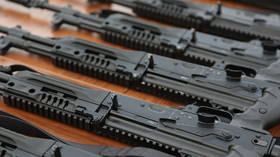 Russia's Rostec defense consortium has finalized an upgrade of the Kalashnikov AK-12 assault rifle and will begin production of the latest model this year. It is the fifth generation of the legendary firearm.
The new design reflects the experience Russian troops have gained during the military operation in Ukraine, the head of Rostec, Sergey Chemezov, has said.
"We are working in cooperation with the military and are getting their feedback," he noted as he unveiled the new rifle version on Friday. "We can promptly react to the changing needs [of the army] and introduce construction changes as well as improving our products."
According to Chemezov, the new AK-12 model received "major improvements" and is much more user-friendly and ergonomic. "The new model will be mass produced this year," he added.
The 5.45mm caliber AK-12 has increased operational accuracy and fire density in comparison to earlier generations. It also features several Picatinny rails for gun sights and laser target indicators.
The weapon is just one of the Kalashnikov Group's cutting-edge products, which also include the 5.56x45mm AK-19 assault rifle and the 9mm PPK-20 submachine gun. The group produces AK-15 assault rifles with 7.62mm caliber for the Russian Army and the AK-19 for international clients.
Earlier in January, the Kalashnikov Group, which is part of Rostec, reported a 20-year record production increase, as its firearms division manufactured 40% more military and civilian small arms in 2022 than in 2021. Kalashnikov fulfilled 45 state military contracts, 24 military-technical cooperation agreements, and one deal to license production elsewhere, describing them as "the biggest deals in history."
Russian officials have said that the country's defense industry kicked into high gear in response to Kiev's Western backers "pumping" Ukraine full of arms. Last month, President Vladimir Putin pointed to the need to fully supply "every platoon" fighting on the frontlines against Kiev's forces as he spoke to defense industry executives in Tula.
You can share this story on social media: