Mozart Group training Ukrainians to 'kill Russians' – founder
While claiming the group's purpose is "humanitarian," Andrew Milburn told host Afshin Rattansi that killing is a part of the mission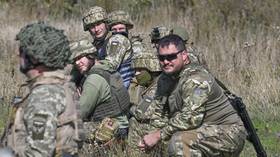 Despite its professed humanitarian mission in Ukraine, the Mozart Group is a private military company training Ukrainian soldiers to kill Russians, its founder and CEO told Afshin Rattansi on Saturday's episode of 'Going Underground.'
Founded by US citizens Andrew Milburn and Andrew Bain last March, the Mozart Group has been described as the Western answer to the Wagner Group – the Russian private military company currently fighting Kiev's forces for control of the key Donbass city of Artyomovsk (known as Bakhmut in Ukraine).
Speaking to Rattansi, Milburn was keen to dispel any comparison between Mozart and Wagner. He told the program's host that his group's mission is "purely humanitarian," and that Mozart's members primarily work to supply and evacuate civilians living near the front lines.
However, the group's other mission is the training of Ukrainian soldiers, which often takes place "very close to the front line," Milburn, a former US Marine Corps commander, said.
"Sadly in this war – in any war actually – the more of the adversary you take off the playing field, or kill, the less the danger is to your own guys," he said. "Why do we train guys? It isn't simply to defend themselves, it's to kill the enemy."
"Everything we're doing is exactly within the parameters of NATO policy," he continued. "The West is providing Ukraine with lethal weapons that kill Russians. Why are they doing that? It's to kill Russians."
"When we train soldiers that is their goal. It's why we teach them how to operate their weapons."
While Mozart survives on private donations, Milburn has previously called for "funding from Western governments," asking Newsweek last month, "What the hell is stopping the US, or UK, or European Union governments from reaching out and saying 'Let us help you?'"
Milburn is currently embroiled in a legal dispute with Bain, who accused the retired commander of violating US arms trafficking regulations and seeking to expand Mozart's training operations into Armenia. The suit also accused Milburn of embezzling money donated to the organization, orchestrating the burglary of humanitarian supplies in Ukraine, sexually harassing a female co-worker, and bribing Ukrainian military leaders.
Milburn in turn accused Bain of seeking money from the Mozart Group, and claimed that Bain is "heavily invested in Russia," which he denies.
You can share this story on social media: