Russian media watchdog takes on CIA website
Roskomnadzor has blocked access to the webpage along with those of the FBI and US State Department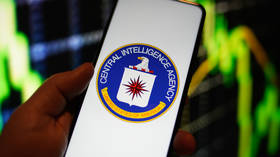 The official websites of US intelligence agencies have been blocked in Russia after state media watchdog Roskomnadzor blacklisted them on Friday for spreading misinformation and discrediting Russia's armed forces.
The block affected the online portals of the Central Intelligence Agency (CIA), Federal Bureau of Investigation (FBI) as well as the US State Department counterintelligence and counterterrorism platform.
When trying to access cia.gov, fbi.gov or rewardsforjustice.net from Russia, the browser returns a message stating that "the resource at this IP address has been blocked by decision of the state authorities" or simply informs the user that it is "unable to access the site."
In a statement to the TASS news agency, Roskomnadzor explained that the websites were found to be in violation of Russian Federal laws pertaining to information, IT and information protection.
"On the basis of Federal Law No. 149-FZ, Roskomnadzor restricted access to a number of resources belonging to state structures of hostile countries for the distribution of materials aimed at destabilizing the social and political situation in the Russian Federation," the agency said.
The US has been playing an active role in the ongoing conflict between Russia and Ukraine, supplying Kiev with billions of dollars worth of military aid, and also providing logistical and intelligence support.
Last week, it was revealed that CIA chief William Burns had personally traveled to Ukraine to hold a classified meeting with President Vladimir Zelensky where he reportedly briefed the Ukrainian leader on "Russia's next steps," according to Reuters. Burns also made similar trips to Ukraine last November and in January 2022 – weeks before Moscow launched its offensive.
In November of last year, the CIA's espionage chief David Marlowe also announced that his agency was "open for business" and hoping to recruit Russians disaffected by the ongoing military conflict between Moscow and Kiev for counterintelligence efforts.
You can share this story on social media: