Kremlin responds to Nuland's sanctions offer
The controversial US diplomat has rehashed old talking points that are unacceptable for Moscow, spokesman Dmitry Peskov said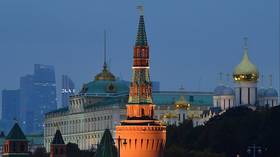 The US is leaving no room for compromise on sanctions and potential negotiations with Russia, Kremlin spokesman Dmitry Peskov said on Friday.
His statement came after US Under Secretary of State for Political Affairs Victoria Nuland suggested that restrictions on Moscow could be eased if it hands back its newly incorporated territories to Ukraine.
"We still don't see anything [new] in Madame Nuland's words. We are absolutely not inclined to exaggerate their importance," Peskov told reporters.
The spokesman added that Nuland "has practically repeated the set of theses that show… the lack of flexibility in the position of the US, which, in turn, is completely different from our position."
During a hearing in the Senate Foreign Relations Committee on Thursday, Nuland suggested that Secretary of State Antony Blinken would "favor sanctions relief" if Moscow decides to "negotiate seriously and withdraw its forces from Ukraine and return territory."
In December 2013, Nuland openly backed the anti-government protests in Kiev. She toured the capital's main square, the Maidan, offering loaves of bread and other snacks to protesters and police officers. Two months later, a leaked phonecall revealed that Nuland was discussing who should be included in Ukraine's new government with Geoffrey Pyatt, the US ambassador to the country at the time.
Russia launched its military operation in Ukraine in late February last year, citing the need to protect the people of Donbass, and Kiev's failure to implement the Minsk 2014-15 peace accords. The Donetsk and Lugansk People's Republics, together with two other former Ukrainian territories – the Kherson and Zaporozhye regions – became parts of Russia after referendums on the matter in September. Crimea did the same shortly after the 2014 coup in Kiev.
Ukrainian officials have insisted on the surrender of the territories by Russia as a precondition for future negotiations. In addition, President Vladimir Zelensky signed a decree last year stating "the impossibility" of holding talks with Russian President Vladimir Putin. Zelensky told Sky News on Wednesday that he was not interested in a meeting with Putin, who he said was "a nobody" to him.
Moscow has previously stressed that demands to give up land are unacceptable. Peskov said on Thursday that Zelensky was untrustworthy as "he did not intend to implement the [Minsk] agreements and was preparing for war." Russian Foreign Minister Sergey Lavrov claimed last month that the Ukrainian leadership was dominated by "brazen Russophobes" incapable of negotiating.
You can share this story on social media: