New US ambassador arrives in Moscow
Lynne Tracy takes the helm at the diplomatic mission at a time when bilateral relations are at one of their lowest points ever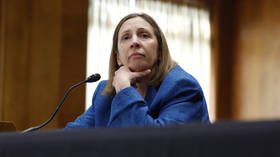 The US embassy in Moscow has welcomed its new ambassador, Lynne Tracy, who was sworn in earlier this month. Her predecessor's term ended last September.
The embassy posted a photo of the envoy standing next to a diplomatic car in front of what appeared to be the officials and delegations lounge at a Moscow airport.
Tracy is a career diplomat, who served as US ambassador to Armenia between 2019 and 2023. Her other postings were in Pakistan and Afghanistan, and several former Soviet nations, including Turkmenistan, Kazakhstan, Kyrgyzstan and Georgia. Between 2014 and 2017, Tracy held the position of deputy chief of mission at the US embassy in Moscow, where she now returns to take charge.
US President Joe Biden nominated Tracy for one of the most crucial posts in the Department of State in September, the same month Ambassador John Sullivan resigned. The Senate confirmed her candidacy in December. She is set to become the first woman ever to serve as Washington's top envoy in Moscow, once her credentials are formally accepted.
The new ambassador arrived a day after the US confirmed that the Pentagon would deliver M1 Abrams main battle tanks to Ukraine, a move that the Biden administration was previously reluctant to take. Washington pledged 31 of the advanced armored behemoths, enough to arm a tank battalion, though the actual transfer may take months.
The US has declared that a "strategic defeat" of Russia in Ukraine is its foreign policy objective, with Biden pledging to arm Kiev for "as long as it takes" for that to happen. Moscow said Washington is acting for selfish reasons, looking to solidify its grasp on Europe and undermine a rising competitor in Russia, and that it is willing to conduct its proxy war "to the last Ukrainian."
Russian officials have described the relationship with the US as being at rock bottom. Kremlin spokesman Dmitry Peskov said last week that ties were "probably at their lowest point, historically" and that "there is no hope for improvement anytime soon."
You can share this story on social media: