Russian military opposed by 'almost entire West' in Ukraine – top general
Chief of the General Staff Valery Gerasimov explains modern Russia has never seen such intense hostilities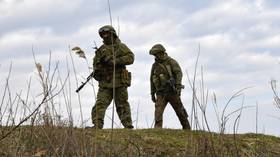 Russia is resisting a united effort by almost all of the Western nations against its military operation in Ukraine, chief of the Russian General Staff, Army General Valery Gerasimov, has said.
"Modern Russia has never seen such scale and intensity of hostilities," Gerasimov, who earlier this month was appointed to lead Moscow's joint forces group in Ukraine, told Argumenty I Fakty newspaper on Monday.
"Our country and its armed forces today are opposed by almost the entire collective West," the general added, referring to the extensive military support being provided to Kiev by the US and other NATO member states during the conflict.
Russia has long insisted that the fighting in Ukraine is actually a "proxy war" waged against it by the West. Earlier this month, Kremlin spokesman Dmitry Peskov said the involvement of the US and its allies in this conflict was "obvious."
The secretary of Russia's National Security Council, Nikolay Patrushev, also suggested that "the events in Ukraine are not a confrontation between Moscow and Kiev," but a standoff between NATO – "the US and England first and foremost" – and Russia.
Both Washington and Brussels maintain they have no intention of getting directly involved in the conflict, but NATO Secretary General Jens Stoltenberg stated in October that "if [Russian President Vladimir] Putin wins, that is not only a big defeat for the Ukrainians, but it will be the defeat, and dangerous, for all of us."
According to Gerasimov, besides the events in Ukraine, Russia's General Staff also remains focused on ensuring the country's military security in view of other existing threats. One of these is "the desire of NATO to expand through the inclusion of Finland and Sweden," which applied to join the US-led military bloc in May, he said.
You can share this story on social media: