Kremlin comments on peace treaty prospects with Tokyo
Japan is an "unfriendly nation,"which leaves no chance for formally ending the decades-old war dispute, a spokesman said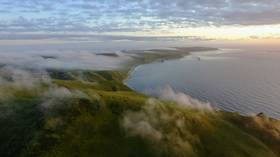 Despite a statement by Japanese Prime Minister Fumio Kishida that his country would continue to pursue a formal peace treaty with Russia, in reality there is no chance for such an outcome at the moment, Kremlin spokesman Dmitry Peskov has assessed.
Japan is among "unfriendly nations" targeting Russia with sanctions and "does not show any constructive attitude" by acting the way it does, the Russian official told journalists on Monday.
"In essence, there is no meaningful dialogue at the moment. Under these conditions, de facto" there is no potential for securing a peace treaty between the two nations, he added.
Kishida mentioned relations with Russia earlier in the day in a speech before the Japanese parliament, in which he outlined his cabinet's priorities for domestic and foreign policies. He said the government would "continue to adhere to its policy of resolving the territorial issue [with Russia] and concluding a peace treaty."
Russia and Japan have been technically at war with each other for almost eight decades. Tokyo disputes Russian sovereignty over four of the islands in the Kuril Archipelago that the Soviet Union captured during the WWII hostilities. Moscow conditioned the USSR's declaration of war against Japan in August 1945 on an agreement by other Allies that the Kuril Islands would be ceded to it, once Imperial Japan was defeated.
In the San Francisco Treaty of 1951, Japan relinquished its claims on Kuril Islands, but it later claimed that the four disputed land masses, which Tokyo calls the "northern territories," were never part of the archipelago.
The issue remained unresolved after the USSR collapsed, though Moscow offered some compromises, such as simplified visa issuance for separated Japanese families and joint economic development.
In 2017, Russian President Vladimir Putin said Tokyo could deploy military assets threatening Russia, should it have control over the disputed islands, and that it was a major concern for Moscow.
Russian Foreign Minister Sergey Lavrov mentioned the situation during a press conference last week. A few years ago, his department offered to formulate a comprehensive peace treaty, which would have sidestepped the territorial dispute and set the framework for its eventual resolution, he stated. The Japanese side rejected the idea, the minister added.
You can share this story on social media: