Red Cross chief visits Russian Defense Ministry
Ukraine, Afghanistan, Syria, access to prisoners of war, and other humanitarian issues were on the agenda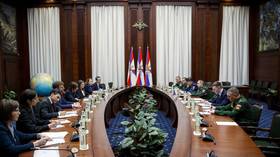 International Committee of Red Cross (ICRC) President Mirjana Spoljaric met with the Russian deputy defense minister, Colonel General Aleksandr Fomin, in Moscow on Friday.
They reportedly discussed the Ukraine conflict and access to prisoners of war on both sides, as well as other humanitarian issues, including the situations in Syria, Afghanistan, and Ethiopia.
"We have been enjoying very close cooperation with the ICRC for many, many years," General Fomin said as he welcomed Spoljaric at the Defense Ministry's headquarters in Moscow.
The Russian military worked with the international humanitarian body during the operation in Syria, he noted, though now the situation in Ukraine "has taken a special priority" in their joint efforts.
Ministry officials held as many as 30 meetings with regional ICRC office representatives last year, according to Fomin. "We seek to continue this very important and necessary work together with you," Fomin told Spoljaric, who recently took over as ICRC head.
The Swiss-born diplomat was on a two-day visit to Moscow, during which she also met with Foreign Minister Sergey Lavrov and human rights commissioner Tatyana Moskalkova.
"One of President Spoljaric's priorities is that prisoners of war are treated humanely and receive regular ICRC visits," the ICRC said in a statement regarding the trip. The organization has had access to POWs on both sides of the conflict, but there are still thousands it has not been able to visit, the statement said, adding that it seeks "full, unimpeded, and regular access to all prisoners of war, wherever they are held."
"Constant confidential and bilateral engagement with parties to the international armed conflict" is essential for the international body's work, the ICRC added.
Spoljaric's visit to Moscow comes around one month after a similar trip to Kiev. Both sides have accused each other of violating the rights of POWs.
In early December, a group of Russian servicemen released as part of a prisoner exchange alleged that they had endured brutal torture at the hands of Kiev's forces. According to the soldiers, their interrogators beat them with shovels and stabbed them with knives, leaving their wounds untreated.
You can share this story on social media: