Ukraine conflict is 'global' – IMF boss
Money that is now being invested in defense and weapons could have boosted economic development, Kristalina Georgieva has said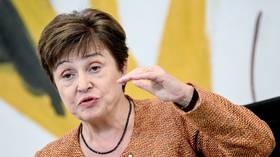 The ongoing hostilities between Moscow and Kiev are a truly global conflict that is sending ripples around the world, the head of the International Monetary Fund (IMF), Kristalina Georgieva, said on Friday. Earlier, Russian officials repeatedly insisted that numerous NATO nations were involved in the Ukraine conflict to a great extent.
"It is a global war because what it did [is] it wiped out the peace dividends we have enjoyed for 30 years," the IMF chief told a World Economic Forum's panel in the Swiss ski resort of Davos. Investments that could have gone into economic development are now being spent on defense and weapons, Georgieva added.
"The result [is] more poor people, more hunger," the IMF head warned. "It is a war against prosperity around the world."
The Bulgarian economist noted that the ongoing conflict could pose a danger to the wealthier part of the world as well. "It is also a tremendous risk for confidence, [particularly] in Europe," she said.
Russia has long insisted that the conflict in Ukraine is an indirect standoff between Moscow and the West. In December, the secretary of Russia's national security council, Nikolay Patrushev, claimed that "the events in Ukraine are not a confrontation between Moscow and Kiev" but a military confrontation between NATO and Russia.
Patrushev also accused the West of sacrificing other people's lives for profit and ambition. The senior official, who previously served as director of the Federal Security Service (FSB), insisted that Washington and its allies were simply using Ukrainians for their own goals because an independent Russia had "no place" in their minds.
This viewpoint was echoed by Russian Foreign Minister Sergey Lavrov and Defense Minister Sergey Shoigu, who said that Russia was fighting the West in Ukraine.
Earlier in January, the Kremlin accused Western nations of indirectly taking part in the conflict.
"Their involvement in this conflict is obvious," Kremlin spokesman Dmitry Peskov said at the time. Although both Washington and Brussels maintain they have no intention of getting involved in the conflict between Moscow and Kiev, "de facto they have already become an indirect party" to it, he said.
You can share this story on social media: