NATO member weakens itself by helping Ukraine – analyst
Sending howitzers to Kiev undermines Denmark's commitments to the US-led bloc, an expert has told local media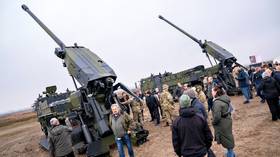 Denmark's decision to donate 19 howitzers that its military hasn't received yet to Ukraine "really hurts" and will affect both the country's national security and commitments to NATO, a military expert has warned, as cited by the Berlingske newspaper.
"The weapon system has been the core of the planned reconstruction of the Danish army. And this important piece is now being removed," military expert Kristian Soby Kristensen told the influential Nordic daily on Thursday.
Denmark placed an order for 15 Caesar truck-mounted artillery pieces, which are produced by French arms maker Nexter, in May 2017, with delivery under the €40.3 million ($43.7 million) deal initially scheduled for 2021. It bought an additional four pieces in October 2019. The acquisition however, has been mired in delays, allegedly caused by the Covid-19 pandemic.
On Thursday, Danish Defense Minister Jakob Ellemann-Jensen announced that all 19 guns would be sent to Ukraine instead of being retained by the country's military. The decision would affect rearmament plans, he admitted, but the government would seek alternative weapon systems.
Kristensen, who is a senior researcher at the Department of Political Science of the University of Copenhagen, told Berlingske that he doubted that viable alternatives could be found. Caesar howitzers are "tailored to the needs of the Danish army," he explained.
"You can probably find some other guns, but the problem is that the whole world is now ordering military equipment," he added.
The 19 French artillery systems were a key component of Denmark's plan to field a heavy infantry brigade. Copenhagen pledged to outfit the unit by 2032 as part of its commitments to NATO. The project faced a series of delays, with difficulties in getting new weapons being a major stumbling block, according to the Danish media.
Officials in some NATO nations have previously warned that continued supply of arms and ammunition to Ukraine on a massive scale would come at a cost to their own defensive capabilities. Former German defense minister Christine Lambrecht went on record in August that her nation was running out of stocks it could supply to Kiev. She resigned on Monday amid discussions about whether Berlin should provide Kiev with Leopard 2 tanks.
You can share this story on social media: