Top EU official admits dialogue with Ukraine becoming 'more difficult'
European Council President Charles Michel concedes there's a divide between Kiev and Brussels on sanctions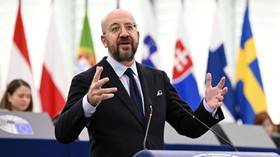 Negotiations regarding further sanctions on Russia with Ukrainian President Vladimir Zelensky are becoming increasingly complicated with each new round, European Council President Charles Michel said during a trip to Kiev on Thursday. The statement came after Zelensky urged the EU to impose even tighter restrictions on Moscow.
"Each debate on sanctions is much more difficult than the previous one," Michel told reporters, as quoted by Bloomberg. "We have good debates with President Zelensky, and I will brief my colleagues on what are the Ukrainian proposals and we will consult. I'm confident we will be able to strengthen the pressure on the Kremlin."
Michel added that the EU will adopt a tenth sanctions package on Moscow. "We have to see which additional sectors can be targeted in the future," he said.
The EU imposed sweeping restrictions on Russia after Moscow launched its military operation in Ukraine in late February. Zelensky called on Brussels on Thursday to target Russia's nuclear industry, including "all entities involved in the Russian missile program." He also asked for a full ban on Russian energy exports.
The bloc's efforts to completely relinquish Russian oil and gas have been met with resistance from countries such as Hungary, whose economy is heavily dependent on Russian energy. Budapest has managed to gain several carve-outs that allow it to continue receiving supplies from Moscow. "Russian [energy] accounts for 85% of Hungary's gas consumption and 65% of oil demand. This cannot be changed overnight," Tamas Menczer, the state secretary for foreign affairs, explained last week.
The Hungarian government shared survey results this month indicating that "97% of Hungarians reject sanctions that cause serious damage." It added that "the message is clear: the Brussels sanctions policy must be reviewed."
The Kremlin stated last month that the Russian economy has adapted to the sanctions and that it is impossible to deny that the restrictions are hurting the EU countries as well. Russian Foreign Minister Sergey Lavrov accused the West on Wednesday of trying to use sanctions to incite "a revolution" in Russia and assert "the dominance of the US by all means."
You can share this story on social media: