Kremlin rubbishes bizarre Zelensky claim about Putin
The Ukrainian president alleged he was not sure if his Russian counterpart was alive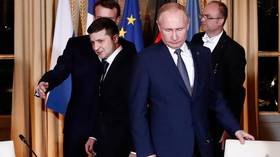 Ukrainian President Vladimir Zelensky claimed that he was not certain if Vladimir Putin actually holds the office of president of Russia, or is even alive. The Kremlin dismissed the remark as an expression of Zelensky's wishful thinking.
Russia and Putin are "a big problem" for Zelensky, so it's natural that he "would prefer that neither Russia nor Putin existed," Dmitry Peskov, the Kremlin spokesman told journalists on Thursday.
He was reacting to a claim that Zelensky had made earlier in the day during his virtual appearance at the Ukrainian Breakfast, an event hosted on the sidelines of the World Economic Forum in Davos by the Victor Pinchuk Foundation.
"I am not certain that the president of Russia, who makes occasional appearances on TV in front of a chroma key is actually [Putin]," the Ukrainian leader said, using the term for a background replacement technique colloquially known as 'green screen.'
"I absolutely do not know whether he is alive, whether he takes decisions or someone else does," Zelensky added, speculating that Russia could be under a collegial rule.
The remark came as the Ukrainian leader claimed that failure to reduce tensions with Moscow during the years of his presidency and the lack of negotiations today were Russia's fault.
On Wednesday, Russian Foreign Minister Sergey Lavrov assessed that Zelensky and his government were not free to take decisions on foreign policy and that the country was hostage to a Western proxy war against Russia.
"There can be no negotiation with Zelensky, if only because he legally banned any talks with the Russian government," he pointed out.
Remarks by Zelensky seemed to allude to a popular conspiracy theory, which speculates that the Russian government employs a number of Putin lookalikes to stand in for him at various events. The extreme variant claims that the "real" Putin is long dead and that Russia is controlled by a cabal of puppeteers.
Some officials in the Ukrainian government apparently consider the idea to be viable to some extent. Kirill Budanov, who heads Ukraine's military intelligence service, claimed in an interview in July that a double went to Iran earlier that month instead of Putin. He offered no evidence to back the allegation.
You can share this story on social media: