Russia launches espionage case against US citizen
The American is suspected of gathering data on "biological topics," Russia's Federal Security Service says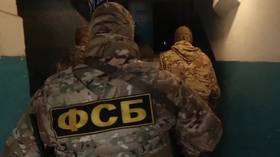 A criminal case on espionage has been launched against a US citizen, Russia's Federal Security Service (FSB) announced on Thursday.
"The American is suspected of collecting intelligence data on biological topics, directed against the security of Russia," the agency said in a short statement.
The FSB didn't reveal any further details about the case.
Espionage charges may carry a penalty of between 10 and 20 years behind bars, according to Russian law.
Former US Marine Paul Whelan is currently serving a 16-year prison sentence in Russia after being found guilty of espionage. He was sentenced in 2020 after being arrested two years earlier with a USB device containing sensitive information.
The American's defense claimed he was set up by the FSB and given a flash drive, on which he expected to see photos from a tourist trip. Besides his US citizenship, Whelan also holds British, Canadian, and Irish passports.
You can share this story on social media: