Putin provides assessment of Ukraine campaign   
The Russian president noted "positive dynamics" in Moscow's military operation in the neighboring country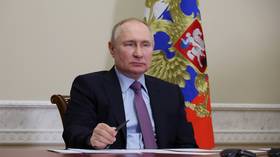 Russian President Vladimir Putin has provided a positive assessment of battlefield developments of the military operation in Ukraine. His comment came days after Russian forces seized the strategic town of Soledar in Donbass.
In an interview with the news channel Rossiya 1 aired on Sunday, Putin said: "The dynamics are positive. Everything is developing within the framework of the Defense Ministry's and the Joint Chiefs of Staff's plan."
He also expressed hope that "our fighters will further please us with their results."
On Friday, Russia's Defense Ministry confirmed the capture of the strategic Donbass town of Soledar, which had been the scene of heavy fighting noting the town's importance "for the continuation of successful offensive actions."
Officials explained that the seizure of Soledar could pave the way for the cutting of supply lines to Ukrainian forces in the nearby city of Artyomovsk, which Kiev renamed Bakhmut.
Both sides have reported heavy fighting near Artyomovsk in recent months. The city is a key logistics hub for Ukrainian troops in Donbass, while for Russia its capture would open a path to other important Ukrainian-controlled towns.
You can share this story on social media: