Kremlin comments on major Donbass battle
"Gigantic" efforts have been devoted to seizing the mining town of Soledar, spokesman Dmitry Peskov has said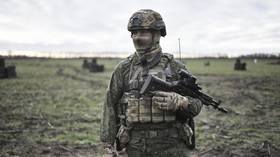 Russia will continue its Donbass offensive, Kremlin spokesman Dmitry Peskov said on Thursday, after the country's Defense Ministry reported that airborne troops had blocked the Ukrainian-held mining city of Soledar. Evgeny Prigozhin, the founder of the private Russian military company Wagner Group, later confirmed that his soldiers had completely seized the city.
"Truly gigantic work has been done," Kremlin spokesman Dmitry Peskov told reporters. He described the fighting as "absolutely selfless, heroic actions not only in Soledar, but in many other areas where offensives are taking place."
Peskov said the Russian advances would continue. "It is not the time to stop and celebrate. The main work still lies ahead of us."
The fierce battle for Soledar, a city with a pre-conflict population of around 10,000, has been raging for several months. Prigozhin said in a statement to the media on Tuesday that his soldiers had managed to seize the "entire territory" of Soledar. He added the next day that Wagner fighters had begun clearing the city's vast underground tunnel network.
The Russian Defense Ministry said in its daily briefing on Wednesday that Russian airborne troops had blocked Soledar from the north and the south, while "assault units are fighting inside the city."
Ukrainian President Vladimir Zelensky and the country's general staff, meanwhile, claimed on Wednesday evening that the battle for Soledar was ongoing and the Donbass frontline was "still holding."
Moscow launched its military operation in Ukraine in late February, citing the need to defend the people of Donbass. The Donetsk and Lugansk People's Republics, together with two other former Ukrainian territories – Kherson and Zaporozhye Regions – became part of Russia after holding referendums in September 2022. Crimea joined the Russian Federation shortly after the 2014 coup in Kiev.
You can share this story on social media: