Moscow slaps new sanctions on UK citizens
The restrictions target 36 British nationals that support an "anti-Russian course," the foreign ministry has said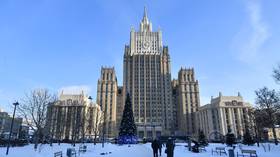 Russia has expanded sanctions against the UK, blacklisting dozens of officials and journalists, the Foreign Ministry announced on Thursday. The move comes in response to British policies that Moscow regards as hostile.
In a statement, the ministry denounced the British government's "anti-Russian course," claiming that the UK "continues to actively apply the mechanism of personal sanctions and conducts an intensive propaganda campaign in order to discredit our country and isolate it on the global stage."
Against this backdrop, Moscow decided to "additionally include in the Russian 'stop list' a number of Cabinet members, representatives of law enforcement agencies and the journalistic corps of the United Kingdom." The sanctions apply to 36 people in total. However, the ministry did not provide any details regarding specific names or positions.
The Foreign Ministry went on to say that London had "deliberately abandoned constructive dialogue" with Moscow while embracing a confrontational approach. The UK, acting in collaboration with Washington, "spreads false information about Russia" and "incites Russophobia," it said.
The ministry also warned that "the hostile actions and aggressive rhetoric of British officials would not remain without an adequate response, and support for the neo-Nazi Kiev regime would cost its Western masters dearly."
On Wednesday, Britain announced that it would provide Ukraine with main battle tanks. According to earlier media reports, Britain was considering sending around a dozen Challenger 2 tanks to Kiev.
Following the start of Moscow's military operation in Ukraine in late February, the UK imposed severe sanctions on Russia, freezing assets belonging to a vast number of entities and individuals and introducing export bans on a number of industries and services.
In retaliation, Moscow has on several occasions sanctioned UK officials and nationals, having targeted several hundred individuals in total. The previous round of restrictions was announced by Russia's Foreign Ministry in September, which blacklisted 30 individuals that either "promoted [an] anti-Russian news agenda," or acted as "representatives of the UK defense lobby."
You can share this story on social media: