Mobilized reservist sentenced to five years' jail
A man called up to serve in the conflict with Ukraine has been found guilty of battery following a quarrel with an officer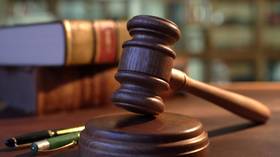 A Russian military court has sentenced a reservist, called up to arms last year as part of a national partial mobilization drive, to five and a half years in a high-security prison. The man was found guilty of attacking and beating an officer following a brief quarrel during a personnel inspection.
The incident occurred in mid-November 2022. Several videos that surfaced on social networks showed a man, who was later identified as Aleksandr Leshkov, threatening an officer during a personnel inspection at a military base near the Patriot Park in Moscow Region.
Footage shows Leshkov, who is surrounded by other men in uniform appearing to be mobilized reservists, accusing an officer of providing insufficient supplies and training to the reservists. He particularly claims that the body armor distributed among those mobilized was of substandard quality. The man can also be seen swearing at the officer on several occasions.
At some point, Leshkov threatens to "go to the headquarters and start breaking limbs to everyone [there]" until his "questions" are answered. The officer shown in the video, who remains unidentified, sought to calm Leshkov down, but the reservist is seen first breathing out a swirl of cigarette smoke in the officer's face and then hitting him in the chest as the argument apparently spiraled out of control.
According to a court spokesman, Leshkov has already appealed his sentence.
Russian President Vladimir Putin ordered the partial mobilization of reservists in Russia last September. The draft was ended in early November when the defense ministry said that the target of calling up 300,000 troops was fully met.
People who were called to arms in various regions reported some issues linked to the mobilization campaign on a number of occasions, including a lack of equipment or supplies as well as payment delays. The Kremlin admitted the issues and created a special coordination committee to ensure better supplies for the newly drafted troops. In early November, Putin also vowed to personally address all relevant concerns by holding a public meeting during a trip to one of the Russian regions.
Earlier, the president also said that Russia saw "no shortage of stupidity" during the draft, adding, however, that it had helped identify problems that might have otherwise remained unaddressed.
You can share this story on social media: