Zelensky strips ex-opposition leader of citizenship
The president accused Viktor Medvedchuk and several other MPs of "serving" Russia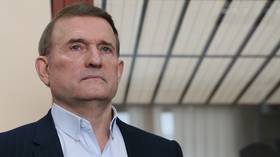 President Vladimir Zelensky has announced that the Ukrainian passports of Viktor Medvedchuk, the former leader of the banned Opposition Platform – For Life party, and several other current and former opposition MPs have been revoked.
Medvedchuk, Andrey Derkach, Taras Kozak and Renat Kuzmin have been stripped of their Ukrainian citizenship based on materials prepared by the country's Security Service (SBU) and migration authorities, and in line with the constitution, Zelensky said on Tuesday.
"If the parliamentarian chooses to serve not the people of Ukraine, but the killers who came to Ukraine, then we're going to act accordingly," he explained, implying that the politicians stripped of their citizenship had been working with Russia.
"Those aren't the last such decisions. The special services are working," Zelensky added.
All of the sanctioned individuals left Ukraine amid a crackdown on the opposition by Zelensky's government following Russia's military operation in the country, which started in February last year.
Medvedchuk spent months in detention in Ukraine after being arrested in April, shortly after his party – the second largest in the country – was branded illegal, along with a dozen other groups that opposed the Kiev authorities.
The 68-year-old had earlier been charged with treason for his alleged collaboration with Russia. Derkach, Kozak and Kuzmin have all faced similar accusations.
Medvedchuk's opponents accuse him of being a pro-Russian politician, which he denies. Russian President Vladimir Putin has previously labeled him a "Ukrainian nationalist."
Medvedchuk was freed in September as part of a major prisoner exchange between Kiev and Moscow. The swap also saw 55 Russian and Donbass soldiers return home, while Ukraine got back 150 of its troops, including many fighters attached to the infamous nationalist Azov Battalion, who surrendered to the Russian forces during the battle of Mariupol.
In previous years, Medvedchuk himself played an active role in organizing prisoner exchanges between Ukraine and the People's Republics of Donetsk and Lugansk.
Media reports claimed last week that Zelensky revoked the citizenship of 13 priests from the canonical Ukrainian Orthodox Church (UOC) in December. The church had been subordinate to the Moscow Patriarchate.
You can share this story on social media: