Ex-Soviet republic explains refusal to 'return' weapons to Ukraine
Georgia's defense ministry blasted Kiev for claiming it had obtained its Buk air-defense systems free of charge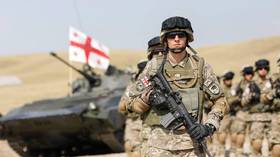 Georgia did not receive Buk anti-aircraft systems from Ukraine free of charge, but rather as part of a secret arms deal, the country's defense ministry announced on Tuesday.
The statement came in response to a Ukrainian diplomat who alleged that Tbilisi was refusing to return weapons that Kiev had gifted to the Caucasian nation more than a decade ago.
The ministry further castigated "the incorrect information spread by experts or individual media outlets" about the Buk deal.
"It seems that Ukraine handed over Buk air-defense systems to Georgia for free, which is not true," it said, adding that Georgia "had received the Buk systems in 2007 through a multi-million-dollar purchase.
"This was done under a secret agreement, which is why we cannot provide more specifics," it explained.
The defense ministry added that, while Georgia is offering Ukraine humanitarian and diplomatic support, Tbilisi "has repeatedly stated its clear position" on shipments of weapons and dual-use goods to Kiev.
It also noted that it had paid tens of millions of dollars in 2017 to purchase Javelin anti-tank systems from the US.
The statement followed an article published in Yevropeyskaya Pravda (European Truth) newspaper on Monday, in which Andrey Kasyanov, Ukraine's charge d'affaires to Georgia, claimed that Tbilisi was refusing to hand back the Buk systems, which he suggested were transferred by Kiev to Georgia during its conflict with Russia in 2008.
The diplomat said Ukraine had also asked Georgia to provide US-made Javelin anti-tank launchers at that time. According to Kasyanov, such a move was not only "approved by the US," but Tbilisi has also received an offer from Washington to backfill its Javelin stock "with newer systems."
Georgia has repeatedly stated that it would not send weapons to Ukraine. Tbilisi has also refused to join the sanctions the West has imposed on Russia over the Ukraine conflict, arguing that such a stance contradicts the country's national interests. It has also dismissed calls to open a "second front" against Moscow in the Caucasus.
In September, Fedor Venislavsky, a Ukrainian MP, said Georgia had a unique opportunity to seize back the territories of Abkhazia and South Ossetia that it claims as its own. The two regions declared independence from Georgia after a 2008 conflict between Moscow and Tbilisi.
You can share this story on social media: