Russian ally explains refusal to host drills for military alliance
Conducting CSTO exercises on Armenia's territory would be inappropriate, given the current situation, PM Pashinyan said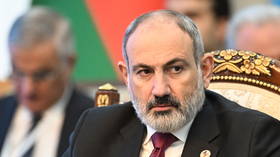 Armenia has no plans to host military exercises involving the members of the the Collective Security Treaty Organization (CSTO) this year, the nation's Prime Minister Nikol Pashinyan said on Tuesday.
Speaking at a press conference, Pashinyan commented on what he described as a "communication failure" over the joint drills. The prime minister noted that Armenia's Defense Ministry "had informed the CSTO joint headquarters in writing that we consider it inappropriate to conduct CSTO exercises [on the nation's territory] in the current situation".
"Therefore, at least this year, such exercises will not be held," he added without providing further details.
Earlier this month, Russia's Defense Ministry announced several joint exercises, in which foreign militaries are expected to take part. It also stated at the time that Armenia would host the drill involving CSTO peacekeeping contingents, dubbed "Indestructible Brotherhood-2023."
Following the prime minister's statement, the CSTO said it was reviewing other possible locations for exercises. Meanwhile, Kremlin Press Secretary Dmitry Peskov reiterated that, despite Armenia's refusal to host the exercises, it remains Russia's "close ally."
"We will continue the dialogue, including on those issues that are now very difficult," he said.
In September, border tensions between Armenia and Azerbaijan flared up again, with the two countries accusing each other of instigating violence after clashes that claimed the lives of dozens of soldiers from both sides. At the time, Pashinyan requested military assistance from the CSTO, but the latter refused to send in troops, insisting on resolving the situation via diplomacy.
The ongoing conflict between the two countries stems from the disputed region of Nagorno-Karabakh, which is mostly populated by ethnic Armenians. The area broke away from Azerbaijan in 1988, establishing its own republic in 1991.
In September 2022, Armenia also refused to take part in CSTO exercises in Kazakhstan, citing its border conflict with Azerbaijan.
In late November, Russian President Vladimir Putin admitted that while cooperation within the CSTO is facing some challenges, it still brings a lot to the table. Such a partnership "yields tangible, practical results and helps us ensure the protection of our countries' national interests, sovereignty and independence," he said at the time.
Established in 1992, the CSTO currently includes Russia, Armenia, Belarus, Kazakhstan, Kyrgyzstan and Tajikistan.
You can share this story on social media: