Drunk drivers scared away by snow sculpture
A villager in Russia's Southern Urals created a replica of traffic officer and his patrol vehicle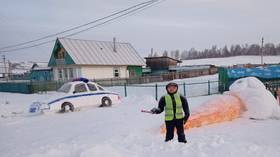 A unique road inspector has been spotted in a village in Russia's Republic of Bashkortostan, and appears to be doing his job almost as well as his real-life coworkers. The officer is in fact a sculpture created by a local resident, and his vehicle is made out of snow.
In the village of Novobayramgulovo, a local resident decided to play a neat prank on the neighbors, and created a life-size figure dressed in a uniform you would typically see on a Russian traffic officer – black jacket, pants, reflective yellow vest, a hat, a traffic baton and even what appears to be a printout of a human face.
The car behind him is also painted to resemble a typical Russian police vehicle, with a blue stripe down the side, and red and blue patrol lights.
According to Faiza Fattakhova – the woman behind the 'snow patrol' – her creation has had an unexpected effect on the locals, as drivers now either slow down or turn around completely upon seeing the icy stare of this tireless traffic officer.
"Before the holidays I decided to make a joke and built a patrol car," the woman told Bashinform. "To complete the composition, I added the figure of a traffic police officer using a synthetic filler, so that drunks would not drive – as a preventive measure."
The sculpture has impressed not only the drivers but pedestrians as well. Faiza says a lot of locals come to take pictures with the snow cop, with some saying they still get bamboozled and confuse the sculpture with a real person.
Faiza says one neighbor even took to Telegram to complain about the traffic officer who didn't seem to ever change his patrol spot. "Some guy drove without a license, he was afraid to pass. They laughed at him even in the Telegram channel, explaining that it was just a dummy," she told reporters.
Faiza's work even caught the attention of the head of the local administration, who featured her work in a social media post celebrating the snow sculptures created by Bashkiria residents.
You can share this story on social media: